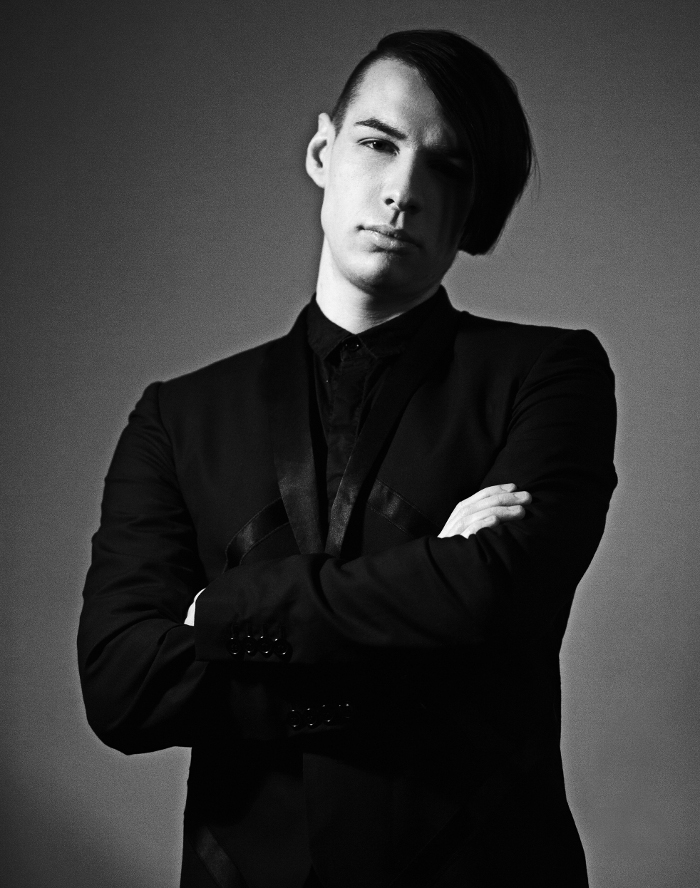 'Dark style' is a concept we can get behind, and not just because everyone looks better in the dark… biannual magazine Stylenoir brings the macabre, the gothic and the darkness to the high fashion and style publishing sector. Slinking out of the shadows during our rendezvous with editor James Joseph – danger, neo-noir, deadly femme fatales, and true horror…wearable technology.
His advice for journalists? Be different.
For PRs? Be exceptional.
And you? Embrace the shadows…and pray you can escape the unforgiving lenses of Google Glass when the sun comes up.
What makes the magazine different and darker than other outlets in the fashion sector?
We are the only magazine in the world that dedicates its ethos to combining luxury high fashion and the Gothic aesthetic. We outrank and outsell all of our alternative competitors.
As 'leader of the dark style revolution', how do you decide the content and front cover for each issue?
Every single editorial that we produce in-house or commission has a rich and strong back story. We want to take a historical or unconventional idea about the evolution of Gothic and produce that in an emotional way. There is such a rich tapestry of both fact and folklore that has evolved over centuries about death and the macabre, and it's fascinating to see that come to life in a modern way, and how people interpret what we produce.
Each of us sees darkness and the macabre in a different light, and both darkness and death can embody any one of those; whether friend, foe, trickster or helper. I hope Stylenoir editorials can translate that for the modern world.
What are your responsibilities on the magazine?
To put it in a simple term, steering the ship in the right direction, and taking responsibility if we don't continue to go the right way.
What are the best and worst things about working on Stylenoir?
The best and worst things about working on Stylenoir is probably the fact we sit as the outspoken outsider, and the fact we sit as the outspoken outsider.
How should freelancers get in touch with pitches, and what kind of features are likely to make it into Stylenoir?
At Stylenoir we need great people who really understand our ethos and culture. I'm fortunate to already have fantastic team members who know far more than I do in their own areas.
With freelancers I care less about how well someone can write, and more about their knowledge and love for the macabre side of culture. I think that is shown in our 'Death: A Self Portrait' and 'The History of Dark Style' articles in the print issue. I'm sure we're probably the only fashion magazine that printed a Caravaggio this year.
The point is, we're different, so we need those who are also different.
Freelancers can email james@stylenoir.co.uk or alicia.clarke@stylenoir.co.uk – we're currently looking for a beauty editor to give a Gothic makeover to our beauty section.
What types of PR agencies does Stylenoir work with?
We have relationships with every type of agency. From the large PR agencies, to the independents, to in-house of FTSE100 and S&P500 companies.
Do you tend to work with the same PRs or do you receive contributions from a wide range of sources?
We look for exciting content and brands that fit with our ethos and theme; it doesn't matter to us if you're big or small, well-known or a start up. Create great work, stand out, and we'll notice.
Of all the press releases you receive on a daily basis, what percentage of them result in a feature?
We receive hundreds of press releases a day, I would go so far to say, between all our staff accounts, it could border on thousands. Our print magazine has around 140 pages, and our online site produces three articles a day. You can imagine the probability of an unsolicited press release being featured. My advice is to really think about if it would fit in with us, engage with the recipient and make the content exceptional.
How important is social media in fashion journalism?
The answer to that is obvious, it has been since 2004. What's much more interesting right now is how to exploit the algorithms of the aforementioned by engineering online articles. That, and the fact wearable technology is about to explode; fashion and 'big data' is about to combine in ways we could never have imagined.
*Shivers* *gulps* *calms self* Y-you also write film reviews for the Film Noir section of Stylenoir – who are your ultimate cinema femme fatales?
That is a difficult question, each one has their own accolades. Pris from 'Blade Runner' caused the entire subculture of 'Cybergoth' to come into existence, so she would be one of the most historic. Catherine Tramell is still perhaps the greatest of the neo-noir genre, and one of my personal favourites. But my ultimate would perhaps be Emma Murdoch; it may be an unconventional choice, but her strength throughout not being in control is somewhat beautiful.
Lady Gaga – groundbreaking and genuinely dark, or played out and hackneyed?
Stefani Germanotta, the average 'plain jane'? Nicola Formichetti made her. Rico Genest gave her kudos. Google search her aforementioned name, you'll see what I mean. Her 'Born This Way' tag line is the biggest lie of manufactured marketing you will ever see.
Maila Nurmi or Cassandra Peterson?
Without doubt, Vampira. The opening from the original 1954 Vampira Show is simply awesome. Elvira is far too chirpy and crude for me. Maila Nurmi will always be the original and best. Rumour has it the only reason Elvira came to be is because Nurmi refused to bring back Vampira.
Finally, any upcoming style trends for Autumn/Winter 2013/Summer 2014 that we should be terrified of?
Our definitions of terrifying might be a little different. Fluorescent beanies certainly had my skin crawling this season and colour blocking always turns me away.
But seriously, wearable technology. It's going to be the biggest thing since mobile phones, and yet is quite substantially the most terrifying prospect for next year. Welcome to Apple, Nike and any other fashion conglomerate knowing your every move, step and location, whether you're asleep or awake. It's going to be simultaneously genius, awesome and colossally controversial; get ready.
Tweet Stylenoir through your trembling @stylenoir and James @JamesJosephLDN.