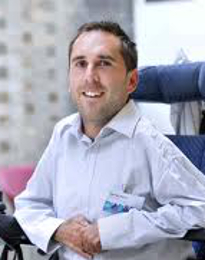 The inspiration for Disability Horizons came to editor Martyn Sibley on a beach in Los Angeles. Having recently returned from a trek from John O'Groats to Land's End, we caught up with him to find out where his inspiration will take him next.
Tell us about your publication Disability Horizons, what inspired you to start it?
The idea came, like in all good stories, on a beach in Los Angeles, California. I was working for the disability charity Scope, and my friend (and co founder Srin Madipalli) was working in the city as a lawyer. Both using wheelchairs and requiring 24/7 care support meant we were trailblazing just by being there. I'd been blogging to great feedback on martynsibley.com when Srin suggested we launch a magazine for disabled people to share their own trailblazing stories. After a random flight home with Jack Black and a few months of planning; disabilityhorizons.com was born!
Who is it aimed at?
It is mainly aimed for a new generation of disabled people who are out there and changing stereotypes. However, we know many families with disabled members and professionals read our inspiring stories too.
What subjects do you cover?
We cover everything that disabled people and thereby people do. From relationships to travel, technology to entertainment; we have it covered.
What stories are you most interested in covering?
Our readers have a soft spot for adrenaline adventures and relationships. Srin's video on SCUBA diving and mine flying a plane had great reactions. Any article about disability and sex seems to strike a chord too.
What makes you different from the other outlets in your sector?
We're less political and more lifestyle based. Whilst disabled people rely on government funding, the analysis of politics gives a negative and downtrodden view of disability. We aim to share stories of the achievements and positives. The world can see that disability is the new sexy.
What were the biggest challenges you faced starting your own publication?
Where to begin… With no prior experience and no budget it was tough. From web design, to development, editing articles, having a content pipeline, enough people, no business model; it was hard. However we were resourceful and that got us through.
Do you pay for contributions from freelance journalists?
Unfortunately not yet.
Do you like freelance journalists to get in touch with you directly to pitch ideas?
Please email with a treatment.
What types of PR agencies do you work with?
We have a great pro bono arrangement with The Misfits Inc. in New York. They design and support our website. Otherwise it's a voluntary team and social media tools.
How do you think the PR/journo dynamic will change in the future?
It's becoming more about social good side by side with corporate goodwill and clout.
Describe a typical day at work: What are your editorial duties/responsibilities at Disability Horizons?
For my role on Disability Horizons I reply to emails and tweets, ensure articles are up to standard, communicate regularly with my business partner Srin, we oversee the team, and create new growth strategies.
What interests you most about your job?
The variety and the fact it is helping people.
How valuable is social media in your work?
Social media is our marketing strategy. We would never have reached 20,000 readers, 6,500 Twitter followers, mainstream media features with The Guardian and the BBC and a Skoll enterprise award without it!
As well as completing a trek from John o' Groats to Lands' End, you're quite a seasoned traveller, where will your wanderlust take you next?
In the coming months I'm doing an accessibility review at Center Parcs, Social Sector exchange in Tokyo, 3 months in the Catalan and a month in Poland.
You can find Martyn tweeing @martynsibley