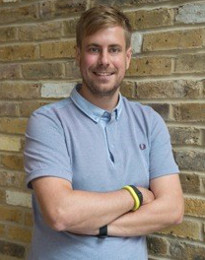 What's the "biggest buzz category in tech right now"? Tamigotchis, right?
Wrong – according to Wareable editor Paul Lamkin, wearable technology is what technophiles everywhere are getting excited about. Also, it's not 1996 anymore.
You're working on the first website devoted to wearable technology – what initially sparked the idea to launch Wareable? What gap will you be filling in the tech publishing industry, and why was now the right time for the launch?
Paul Lamkin: I was approached with an idea for a wearable tech site by Paul Nikkel, Quidco and HUKD founder. Straight away I knew I wanted in. It's a massively growing area, probably the biggest buzz category in tech right now.
We don't think there's another website out there that's covering wearables in the same way. At the moment nobody is digging beneath the traditional tech reviews. We will be getting really in-depth, looking at the companies, the people and the trends, and all the exciting stuff that's happening in the world of wearable technology because it's our niche subject; it's what we're passionate about.
Take us through some of the main sections of the website and what each will focus on. Will there be room for change, will you be responsive to audience feedback?
At the moment our navbar contains what we consider to be the key areas of wearable technology: smartwatches, fitness trackers and headgear. We also have a 'more' section where everything else goes. It's probably this section that I'm most excited about. Wearable tech is in such an embryonic state that no one really knows what direction the industry will go, and what will be the key must-have products in a year or two's time. It'll be fascinating to see what emerges in here.
Of course we'll be open to feedback. We're brand new and we're on a massive learning curve. Readers will be able to leave comments on stories and we'll also be launching a forum in the next few weeks where we hope the web's most enthusiastic wearable tech fans will gather.
Tell us a bit about your target audience – who will be reading Wareable, and what will they be looking for from it?  
Our plan is to be the authority on wearable devices and we'll cover sports, lifestyle, fashion, innovations and startups as well as traditional technology. The site will focus on helping people enjoy the things they love doing with wearable devices, as well as the hundreds of self-connected devices on the market.
Wareable not only focuses on the devices, but the end user, and will be just as useful to runners and cyclists looking to improve their PBs through the information from their wearables, to tech enthusiasts and early adopters looking to buy the latest devices.
Our readers will be treated to news, reviews and features from the wearable tech market, with a two-tier review platform arriving to cater for its mixed audience, that enables people to switch between short and in-depth reviews and will remember their preferences so the site is always tailored to their needs. This functionality will be rolled out in the coming weeks, as AAA products are released.
Who's working with you on the website, and what parts are each of you raring to work on/get stuck into?
James Stables is the senior editor. He's the main man when it comes to the actual content that appears on the pages. He has a magazine background and, as such, is full of great ideas when it comes to stuff like in-depth, meaty longform features – he's already commissioned some cracking stuff.
Dan Sung is on board as features editor. I think Dan is one of the best feature writers in tech and I know he's really looking forward to sinking his teeth into the industry.
We also have some of the biggest and best names in tech journalism on board as contributors and we're really excited about the level of expertise that they bring to the table.
Will you be collaborating with any freelancers/writers you've worked with previously in your career?
Of course. On MSN Tech I made it my aim to have the best freelancers in tech writing for me. On Wareable, it's no different and I think it's an even better platform for these great writers to express themselves.
What kind of thing would you find really useful from PRs for Wareable? Event invites, tech tryouts, news about new products?
Early product news is always welcome – we've obviously both had plenty of NDA action in the past and we're looking to continue that trend. Review samples, events, the whole shebang – we'll be up for testing anything wearable (and also non-wearable stuff that ties in with our 'connected self' tagline) and you'll see us out and about at as many events as we can get to, looking for hands-on opportunities and seeking out original news content.
Slight digression here – on your Twitter profile, you say you'd like to 'go to Legoland with Sean Connery and then afterwards, go for a lovely lamb lunch in the centre of Windsor' a la Alan Partridge. If this happened, what would you two make from all the Lego available? And what dessert would you share after your lunch?
We'd make a smartwatch, obviously. Desert would be chocolate mousse, but no dirty protests.
Which three pieces of wearable technology are you really excited about, and would love to trial for the website?
Android Wear is fascinating and I can't wait to get my hands on the Moto 360. Oculus Rift and Sony's Project Morpheus VR headsets are also incredibly intriguing. I've tried both but I'd love more time with them now they're further down the development line.
If wearable technology ever takes over and enslaves humanity, which of these two scenarios would you be hoping for – a Borg from 'Star Trek' style take over, or more Skynet from the 'Terminator' movies?
I've never seen 'Star Trek' in my life but I'll go for the Borg option as I have seen 'Terminator' and no one wants that outcome, surely.
Some of us Luddites out here are a little wary of wearable technology (perhaps you can tell that from the previous question…) – can you sell the idea to us? What kind of thing will it enable us to do?
Just head over to Wareable.com and you'll be sold in no time.
Paul Lamkin: what a tease. You can tweet the team @wareable.