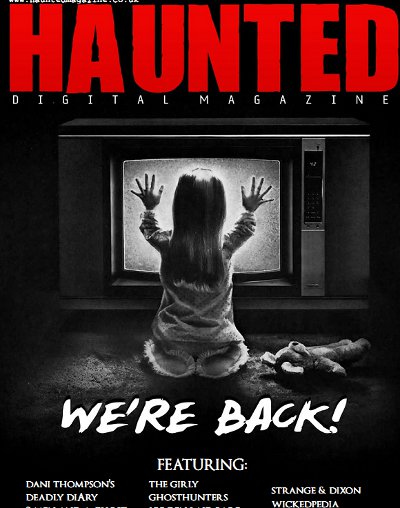 About HAUNTED magazine:
We last caught up with you nearly two years ago – what changes have happened at Haunted since then?
Hi and thanks for catching up with me and Haunted Magazine. All I can say is that a lot of things have happened; firstly we were so proud to get our magazine into WHSmiths. In fact, on the first day that it was in, I went to my local one and just stood looking at it for what seemed like hours… We achieved quite a cult following, and sales were on a steady increase with every issue. However, due to rising print costs and other people in the distribution chain increasing their prices I decided that, for the time being, it was better to stop doing a printed version of Haunted until I was on a more sound financial footing, and to embrace the new era. So from December 2011 we made the decision to go digital for 2012, basically to test the market and see what happens. Fingers crossed.
What new features have you introduced?
Well, apart from the move from print to digital, we realised that although we are pretty innovative with our ideas and features, we still needed to move with the times. Our interactive website is an essential tool and partner for the magazine, with some exclusive content, more information about our on-going projects and a place to purchase the printed back issues.
What makes you different from the other outlets in your sector?
The paranormal industry is a massive one and there are magazines out there that cater for ghost fans and horror movie fans BUT we still feel that no one has married the two together. We have always had a healthy mix of horror and paranormal in the magazine and long may this continue. It is what the paranormal is about… there are more and more independent horror movie makers than ever before and we always love to promote them in the magazine as we know that normally they have limited marketing and advertising budgets. We don't pretend to be something that we're not; we're not Spirit & Destiny and we're not Ghost Voices. We are Haunted Magazine. We also want to attract a different audience to other magazines in our sector. Traditionally it's females who go on ghost hunts and males who go to watch horror movies; by featuring both we'd like to make the magazine appeal to both.
Who have you interviewed in previous issues? And who would you like the chance to interview in the future?
Derek Acorah, Ian Lawman, Andy Nyman, Laura Hamilton, Simon Drake, Robert Englund, Keith Chegwin, Liz Mclarnon, Joe Pasquale and Warwick Davis to name-drop just a few. You can tell just by this list that we don't just interview people IN the paranormal industry. "Celebrities" are human and have interests outside of their "public life" and a few have interests in the paranormal. We'd love to interview loads more people, but if I had to name-drop a few more it would be: Sir Christopher Lee, The Chuckle Brothers, Paul Daniels, Justin Fletcher from CBeebies, Stephen King, James Herbert and George A. Romero (so if any of them are reading, please get in touch).
How do you decide the content?
We just put everything into a hat and draw it out – joking. Actually that's how it feels sometimes but, to be honest, we look at what's hot and what's current and what's topical and maybe do some features based around those but we're keen to do features that have no time-span and can be read and enjoyed and remain fresh for ever. Celebrity interviews are basically out-of-date after the issue has been and gone because if it's read again in two years time it is not applicable BUT a feature about horror movies in the 1970s will always remain fresh and current as it can't change. We like to call it our very own 'Paranormal Pic-n-Mix' service.
About you and freelance journalists:
Do you pay for contributions from freelance journalists?
I would say that for 95% of the time we don't pay for contributions from freelance journalists, although we have done in the past because the feature was too good to miss out on.
Do you like freelance journalists to get in touch with you directly to pitch ideas? And if so, how?
Yes they can contact me directly on paul@hauntedmagazine.co.uk. We are big believers in promoting new and undiscovered talent; a lot of our features are written by first time writers, or should I say that it's the first time that they've been published. The pitch should include their details and what their idea is. People who have read the magazine know what we like: entertaining, punchy, with some paranormal/horror "linkage".
Name the three most important attributes that make a freelance journalist stand out for you and would make you use them again?
Cheeky, cheap and offering a feature that smacks of "something different".
If you can, tell us about the best approach you've seen from a freelance…and the worst…
Best approach: first time writer sent me the whole feature in a word document, was polite in her email and it was an amazing piece of work. She had read the magazine and got and understood the magazine too.
Worst approach: hmmm, a few have not read the magazine and have sent features in that just don't fit our style. I must say that this is very rare; a lot of people wanting to write for us have seen our magazine or checked out the website.
About PRs:
Do you work closely with PRs or do you keep them at arm's length?
Ha, an arm's length is quite close when you look at it really, surely? I don't mind PRs, it's like everything in life, there are people good at their job and people bad at their job, including editors. PRs are an essential tool in the magazine industry, but you don't use a spanner to bang a nail into a piece of wood. They have their uses and I really don't mind speaking to them at all. Joking apart, we have had some good features in the magazine that originated via PRs.
If you could make one change to the way PRs deal with you, what would it be?
Take me out for lunch more…
How should a PR approach you about their client?
Under the bridge at midnight. I will be wearing a top hat and carrying a copy of The Radio Times… place the brown envelope next to me, wink, doff your deerstalker hat and vanish… or the usual way, phone, post or electronic mail.
What information/input from PRs is most useful to you?
As much as they can give me; they're the salesman, I am the customer, and it's up to them to sell me their "product".
When is the best time for PRs to contact you, and what is your deadline for contributions?
Anytime; I've emailed people at 3am before and had emails back at 4am. The days of 9-5 are long gone for me. As we are now purely digital there is no print deadline, so if something is ready to go and its only 24 hrs to go before the issue is out we can stick it in. Our next "digital" issue is out Friday April 13th for any PRs that are listening.. our "official" deadline for content is April 6th so it may prove too short a time. If so, our next issue is out mid-June with a deadline for content of June 8th.
About you:
Describe a typical day at work: What are your editorial duties/responsibilities?
My editorial duties have changed a lot over the years. The very first issue I wrote 99% of the magazine but over the issues it has got less and less and the balance is right now. I like to keep my hand in with one or two features every issue but I am editing more than ever before. A typical day would be: check emails, check news for any "paranormal" happenings, look at the magazine flat plan, drink coffee, maybe have the odd doughnut (with jam, of course) and basically be on hand to fight fires, solve problems and do my upmost to make Haunted stand out from the rest.
What interests you most about your job?
Every day is different. As an observer of the paranormal industry for the last two and a half years, it is weird to see how it has changed. Two years ago it was me emailing people to get Haunted noticed, now people email me ideas, features, content matter… I love it.
If we gave you a £1000, how would you spend it?
Pay off my business credit card… YES, very boring I know. Two years ago I'd have said, ooh, day at the races or two weeks in Tenerife but being a sole trader is damn hard. So, when would you like to transfer the money into my account???
Do you tweet?
YES I do. I am @hauntedmagazine. I don't tweet as much as others but I can definitely see the advantages of it.
If you could time travel what time would you go to?
I would go armed with a printed manuscript of Harry Potter book one to a top publisher THE DAY before JK Rowling did. If that's unethical then I would go back to 1930s Hollywood and interview Stan Laurel, Oliver Hardy, Charlie Chaplin, Harry Lloyd and James Finlayson and then drop in on the set of 'The Great Escape' to chew the cud with Steve McQueen.