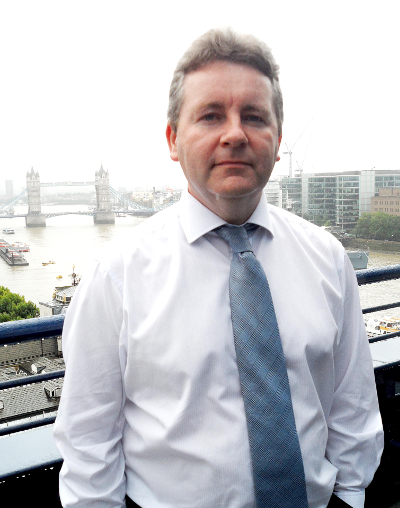 As the Daily Star Sunday's freshly-appointed editor Peter Carbery settles into his role as editor and Head Honcho of the weekly news, gossip, showbiz and sport newspaper, we begged audience for a deep discussion of Sunday newspaper superiority, inferior Will Ferrell sports movies (kinda), and keeping things unbiased.
This is our favourite interview of all time, and Peter is really wonderful, so you should definitely read it.
Hello Peter! You've recently been promoted to editor at the Daily Star Sunday – how did you celebrate?
By hiring one of those ostentatious stretch limos, hanging out the window with a bottle of Chateau Lafitte in each hand and yelling: "Top of the world, ma!" at frightened pedestrians. Or maybe it was with a pint of Guinness and some exotic pork-based snack after work…I'm sure it was one or the other.
In your learned opinion, what makes the Daily Star Sunday different (and far superior) to the other Sunday newspapers?
Well, I could say it's our unbeatable mix of soap, reality, gossip, investigative reporting and sport…but in a word? FUN! We want to inform, sure, but we'll leave the brow-beating and sermons to others. There's a world of weirdness out there, and DSS reporters are brilliant at diving in and coming up with pearls. When the news editor announces in conference: "And this is my favourite story of the week…" we know it's going to be something that has us laughing and competing to get the best (or worst) headline to go with it.
The other thing is that we've never assumed that everyone who reads the paper thinks the same way, or set out to tell readers which way to vote. They appreciate the fact we can cover political stories without being party political: we'll stick the boot in when it's deserved, regardless of which side they're on.
What do you love most about working at the Daily Star Sunday? Is there anything you could do with less of?
The office banter we have going is second to none, and I can't stress how important that is to producing a paper like ours. If you spend pretty much a third of your waking hours working shoulder-to-shoulder with a tight-knit team, you'd want to make sure that a) everyone gets on well with each other, b) you trust them implicitly to get the job done to a consistently high standard, and c) there's an acceptable level of personal hygiene in the trenches. As Meat Loaf says, two out of three ain't bad.
I could do with less of the paperwork and meetings that take me away from the actual production of the paper, but I suppose they are a necessary evil.
Where have you worked previously, and how did you end up in your current position?
After leaving Manchester University I spent two years working in my dad's petrol station, waiting for various newspapers to realise what an asset I'd be to their sports desk if they'd only stop chucking my CV in the bin. It was just by chance that I got my break – a family friend told my parents a new paper was being set up and they were in need of reporters. He set up an interview and I blagged myself the title of sports editor on the London Irish News. It was a fantastic education; thrown in at the deep end, I did everything from reporting, subbing, layout, right through to picking up the papers from the printers and making 2am drop-offs to a van waiting on the Hanger Lane gyratory!
Two years later I was head-hunted by The Irish Post, the more established weekly for the Irish in Britain, and spent seven years as reporter and, eventually, sports editor before joining The Sunday Times as sports production editor for the Irish edition of the paper.
In 2002 a colleague left to help set up a new Sunday edition of the Daily Star, and persuaded me to come along as deputy night editor. It was something of a risk on three levels: I'd never worked for a red top, I'd only ever worked on sport, and a few of my Sunday Times mates were taking bets as to whether this new venture would go belly-up in six weeks or as long as three months!
Since then I've won a few bets and held the roles of night editor and deputy editor. When Gareth Morgan moved across to head up Northern & Shell's expanding digital platform this summer, I was fortunate enough to be asked to step into his shoes and become the paper's third editor.
Dream exclusive for the paper?
"£80MILLION LOTTERY WIN WON'T CHANGE ME, VOWS DSS EDITOR".
Which sections does the team accept freelance contributions for? How should freelancers get in touch with pitches (are there particular people/desks to contact) and what kind of things are likely to result in a commission?
I wouldn't like to put anyone off from submitting pieces they feel would be of interest to our readers – but at the same time, freelancers should keep a regular eye on the paper to see what kind of interviews, features and campaigns we are running. That way, you won't feel aggrieved when your exclusive on restoring Chippendale furniture gets politely knocked back. Neil Chandler is your port of call for news and features, while Ray Ansbro handles all sporting matters.
Of all the press releases the team receive on a daily basis, what percentage of them do you think make it into the paper in some way?
It's a minute percentage of all press releases, simply because so many of those we receive just aren't relevant to our readership. That's the problem with the scattergun tactic used by too many PRs. Of those who take the time to call and explain what they're trying to do, with an understanding of what we're about, the hit rate is much higher. Space permitting, of course.
Is working with PRs a necessary evil of publishing, or a complete delight and a reason for joining the journalism industry (or a mix of both)?
I'll have you know that some of my best friends are PRs!
What are your day-to-day responsibilities as editor?
I find that I'm still doing all the things I was doing as deputy – organising flat plans, liaising with the advertising department, taking daily conference, placing stories, scheming and laying out pages, signing off pages ­– alongside the newer responsibilities of checking budgets and expenses, attending the twice-weekly boardroom meetings and wondering why I'm now wading through double the amount of emails as before.
As a huge Arsenal fan…how do you stop yourself from making the sports pages biased? Do you ever feel tempted…
Our sports editor is a Man United fan so I'm afraid they're already biased. National newspaper sports desks must be run by either United or West Ham fans; it's some long-standing Masonic tradition. I try not to interfere, though it's a complete coincidence we no longer have any Spurs fans in the office. That's what I'll tell the tribunal, anyway…
Can you explain why football is better than figure skating?
I like to think they're two sides of the same coin. Have you seen 'Blades Of Steel'?
Do you ever lie awake all night thinking "news… there's so much darn news out there…"
If something's going to keep me up all night it sure as hell won't be worrying about so much darn news.
If you were going to write a letter to the Daily Star Sunday's agony aunt, what would it be about? Maybe we can help!
Dear Jane, My Blackberry doesn't understand me…
Peter, we can't help with that!
Peter can be found tweeting @kerrygooner. We think that Twitter handle must be a 'Blades of Glory' reference.