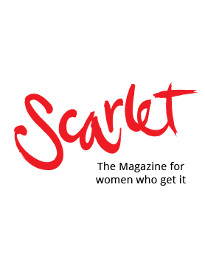 Been missing "Cosmo's sexier, raunchier, cooler younger sister"? That's how Scarlet Magazine was originally launched back in November 2004, but what can we expect from its relaunch in May 2014? Boundary pushing, confidence growing, and bedtime tablet reading, according to its new editor Rebekah Billingsley, who's bringing her experience of digital media (including Times Online and BBC Worldwide's digital magazine division) to Scarlet's latest digital-only incarnation.
Much has changed since 2004, with the rise of social media and online pornography and the slow decline of the glamour model-filled print magazines that were de rigueur ten years ago. In today's interview we discuss how current portrayals of the female form can be confused with genuine expressions of female sexuality; how to separate empowerment from exploitation; and where female readers can avoid the darker sides of the internet and explore healthier, and safer, outlets online…
Scarlet's making its comeback this month – why did you and Blaze Publishing owner Wes Stanton feel that now is the right time for its return?
We've been sitting on this project for a while, working out how to best approach the relaunch, and what we wanted to include in the content. Now, we're finally here, but it could have launched any time of the year. However, it's Summer and the sun does make everyone feel sexier!
Since Scarlet started its little catnap (that's how we've chosen to term it) back in 2010, how do you think attitudes towards and portrayals of sex/sexuality/erotic content have changed in the media? Has what the audience wants/expects changed as well? And how will the new Scarlet react to that?
Scarlet always took a brave stance when it came to looking at sexuality. The position was always to empower women and to push boundaries positively, so I think it was always ahead of the curve. I think this positivity is more widespread these days. The internet has allowed women to dominate how they are seen more positively. That said, I think there are some areas we need to keep an eye on; I think the rise of things like Tinder is a concern. I also feel no end of empathy for today's teenage girls who have to really manage their public persona via social media; I just can't imagine going through all my teenage mistakes so much in view. We need to ensure they understand the consequences or give them the confidence to stand up to what is being asked of them.
Scarlet is going purely digital – what are the advantages of this approach?
Print is really tough, especially for smaller consumer brands. Printing and distribution costs are prohibitive, that's why Scarlet struggled in its past life. For niche titles, digital-only looks really attractive. It also allows us to test the product, invest as it grows. Plus, we can see a lot of research about the tablet being used in the bedroom, which is where we might see Scarlet being read. The tablet also provides a more private reading experience, so, again, we just think Scarlet belongs there.
Tell us about the content – what new features we can look forward to? Any favourites from its previous incarnation? And will you be targeting the same readership?
At the moment, we're using content from the archive. So much of the content is excellent and still relevant and we think the magazine will be reaching a different group of women this time. It gives us the chance to test the product and invest in what we think is working further down the line.
Do you plan to commission freelancers for Scarlet's content – what kind of pitches would you be interested in hearing about, and how should people get in touch with you?
I'd love to be commissioning content later in the year but it's not what we are focusing on right now. I'd like more opinion pieces; Scarlet should have a strong voice. I'd also like some more fun stuff, then I'd also like book reviews, some lifestyle pieces… We invite readers to submit stories for 'Cliterature'. They can go to www.scarletmagazine.co.uk and do that.
You're also the founder of Big Cat Consulting – will the skills you use in that role feed into relaunching Scarlet?
I specialise in digital publishing with Big Cat so clearly those skills lend themselves to this project. I can also use what I learn from Scarlet to pass on to other publishers.
How can PRs help Scarlet Magazine? What kind of products would you like to hear about?
Sex product launches, lingerie, books, and events would be interesting. I could see how we could create a news page quite quickly. We go to press a month before the new issue (mid-month).
Will social media play a big part in introducing Scarlet to new readers/reacquainting it with old friends?
Social media is our biggest marketing opportunity at the moment. It's absolutely our main focus and it allows us to maintain contact with our audience throughout the month.
Talking of online and social media – do you feel it has freed women (and therefore Scarlet's potential audience) up to explore their sexuality in a safe environment?
Like anything, it's a double-edged sword. It depends on how women use it and what they're trying to achieve. I think it's good for Scarlet; we want to use it to raise issues and create debate.
Online can also have drawbacks for women, as recently explored by Kirsty Wark in a BBC documentary on misogyny and sexually violent threats on the internet, and in numerous articles online – what do you think can be done to change this?
Policing the internet is such a difficult task. Freedom of expression is important. But the anonymity of these places allow those hideous individuals to behave in unacceptable ways. The only way to manage it is to try to ensure that there are flags in place and that women feel empowered to report, stand together, or even ignore things. Personally, I'd like to be able to filter people out of my world if they distress me.
And on 'filtering out'… Scarlet is coming back in the same month Nuts magazine released its final issue – could 'lads mags' learn a thing or two from Scarlet's approach? In your opinion, how can those men's interest magazines that are aimed at heterosexual men (and have been under fire over the last year) portray women in sexual situations without objectifying them?
Showing woman after woman in skimpy underwear pouting at a camera with nothing to say just isn't cool in this day and age. I just read the latest issue of Men's Health and was really impressed with the way they deal with men and sex editorially: the emphasis was on making the man a better lover, encouraging him to invest in his technique, and this makes absolute sense, right? I feel quite optimistic that sales of Men's Health have grown and Nuts declined to the point of closing.
There's a lot of S&M-themed stuff being published out there, but most with women in the 'sub' role – how will Scarlet give its audience more variety (please do, btw)?
Scarlet has always strived to explore areas outside of what is flavour of the week in the media. 'Cliterature' is written by readers for readers so they can explore their wildest fantasies with us.
What do you love most about working on Scarlet so far?
I love the variety of content in each issue. Editing it is very odd at times, when I'm checking the prices of cock rings and reading really hot stories about oral sex in a park. But it's fun!
Join in on the fun @scarletmaguk.