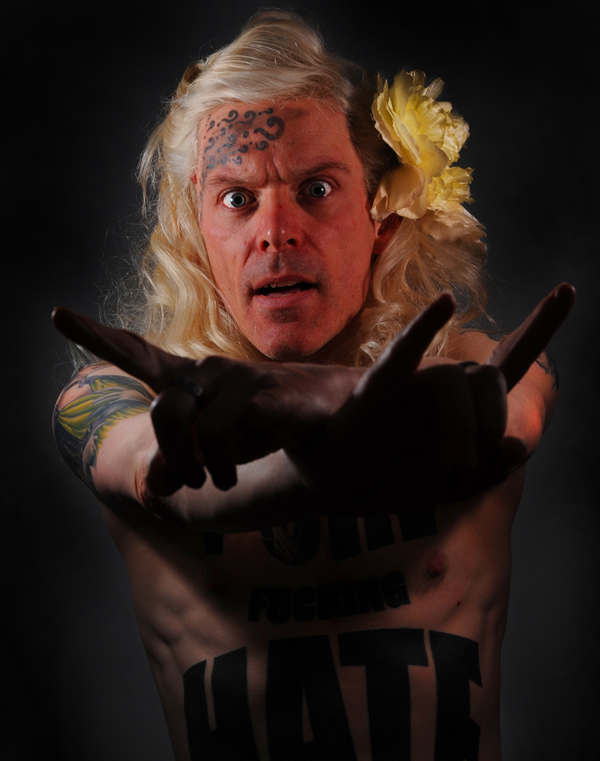 "Everyone knows Woody" – Sean 'Woody' Wood of Tattoo Master fame; tattooist of controversial Princess Diana tattoos (which we can't link to, but happy hunting looking for it…); sometime sexy cover star of Bizarre magazine; and many other artistic achievements. But who is the man behind the legend? What goes into putting Tattoo Master magazine together? What does he think of immortalising Patrick Swayze in the form of body art? All these important questions, and more, are answered in today's interview…
About the publication:
How many tattoo masters out there read Tattoo Master, and what kind of people are they?
The magazine is a trade publication that is read by professional tattoo artists. It has a small circulation due to this and the fact that it is subscription-only and the purchaser has to be a registered tattooist.
As the new editor I will, of course, bring new ideas and present a new direction. One of these is, I hope, to make the magazine accessible to the public, since I don't believe that the trade secrets that led the mag to be restricted-sale are trade secrets any longer, what with the internet and eBay. I have spoken to the publisher and they do not have any objection, in principle, to getting the mag on the shelves of WH Smiths, along with their other tattoo magazine (the highest selling tattoo publication in the UK), Skin Deep.
What regular features do you run in the magazine? Is there anything coming up that you're particularly excited about?
The magazine has tended towards three main platforms, from which the mag is built: tattooist interviews that give insight into how a successful artist got to where he or she has; tutorials by tattooists which may, for instance, show a painting technique to help advance tattooing; and product information, which has primarily tended towards innovations in the tattoo machine itself.
My own new direction, that will set me apart from the previous editors, is to interview experienced old-time British tattooists and explore their history, which will tend to cut down on (but not to do away with) the previous tendency towards remote interviews of foreign and young tattooists. This will add diversity and centralise the mag in the UK instead of trying to get it international. Also, the articles will be indepth as opposed to the thin stuff gleaned from Facebook, etc.
How does your magazine differ from other magazines in your sector?
Other tattoo mags show tattoos on people and focus on clever artwork. This mag shows people with tattoos, who do tattooing and related creative arts. It is trade only at present. It is person-oriented rather than image-oriented and the professionally-related stories that tattooists tell me will be the basis of the mag.
How do the editorial team decide the content for each issue?
Each quarter (it is quarterly) I look for new products, people who will do a tutorial, and interviews with professionals. All of this can be found by going around the various tattoo shows and talent-seeking. Content is aimed at being enlightening.
Does everyone on the editorial team have tattoos themselves? What are they, and where are they…
I work with an art editor and the publisher. I know that two of us have tattoos for sure. Hasn't everybody got tattoos these days? If not, why not?
Also, I am a professional tattooist with a big studio employing 11 people. That is my sensible job. My tattoos are the most offensive stuff in the history of mankind and are unprintable. I am famous for this fact. Really. Ask anyone. Send me an email if you want to see them but they are triple x-rated. Now you're intrigued. I am for hire if you want to bump your granny off for the insurance too. Apparently I am all over Facebook at the minute. I got on the cover of Bizarre mag last year because of my tattooing.
Do you produce a features list for the magazine? Why? Why not?
We have a contents page at the beginning of the mag if that is what you mean. The mag is a 100 pages.
Do you pay for contributions from freelance journalists?
Yes, and it comes out of my budget. If someone gets me good stuff I am delighted to receive it, but since tattooing is a specialist field it would be difficult for a freelance to write relevant stuff. What could a freelance write that a seasoned professional would want to read? But if they can and it is great stuff I will pay them for it.
I do have a couple of contributors who find interesting contacts and get good copy. If I can trust a contributor will deliver the goods and do so on time I value them highly. If they don't, I kill them. I recently had a contributor do a tutorial which was based on a painting, start-to-finish, which was not used despite the fact it took him a week to put it together. The article was good, the painting was excellent, but the photos of the process were lacking in quality DPI. Problem is, of course, that once the painting was finished there was no way of re-photoing the process.
About PRs:
Do you work closely with PRs or do you keep them at arm's length?
This is a bit of an alien concept in the tattoo world. Tattooists would slam the door in their faces I suspect. I approach the subjects I interview, by-and-large, as everybody knows Woody.
About you:
Describe a typical day at work: What are your editorial duties/responsibilities at the outlet?
I spend the day at the studio tattooing a client along with the rest of the crew who work with their clientele. We have a laser clinic, body piercing and hairdressing. We are based in a five-story Victorian building and it is like a zoo full of colourful creatures.
After closing I will go home and work on the mag till probably two in the morning. I am always behind on the deadline and driven to not let the publishing team down. I sort emails which is usually not useful stuff but from time-to-time it is like gold. I phone or text people who will be good leads, etc. I will interview some people over the phone. Often, I will go on excursions to other studios to get the in-depth stuff and take the photos. At some point in the process I will have to create a plan to show how the mag will go together for the art editor's benefit. Before going to print I edit the contents page, classifieds, conventions lists and the cover. Then I start again with the next issue.
Is there a particularly bad example of tattoo work or piercing you've seen in your adventures working on Tattoo Master that you could share with us?
Bad tattooing is common but I am not judgemental as there are many circumstances that need to be taken into account in the process. Besides, negatively judging tattoos is like casting the first stone, in the biblical sense. Judgementalism is too closely linked to hypocrisy for my liking.
Do you tweet? Why, why not?
I do not tweet or go on other social stuff. I am too busy. The studio is a great social scene. I find the internet social stuff is often a bit thin and bitchy for my liking and it tends to be downbeat. I think I have more fun without it.
Are you personally for or against ying yangs, dragons and ironic Patrick Swayze tattoos?
If you want a Pat Swayze tat I have no problem doing it for you. Check out the very famous Princess Diana tattoo that I did a few years ago that won a trophy at the London Tattoo Show in September. It was an outright winner. It was another highly controversial image you should see. Yin yang tattoos died out years ago. Have a cobweb on the throat; much more up to date.
[lnk|http://www.featuresexec.com/mo/15338|_self|Tattoo Master]
[img|jpg|Sean 'Woody' Wood]