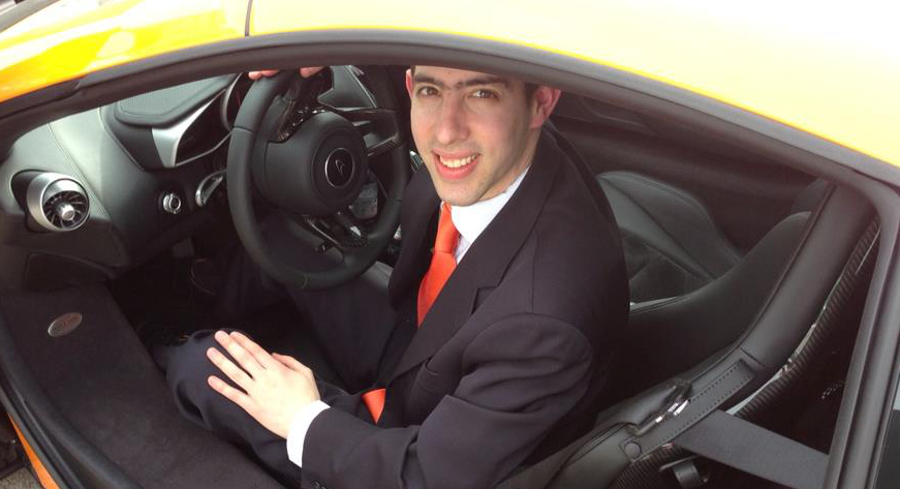 About Luxurious Magazine
Tell us a bit about Luxurious Magazine; what do you cover, and who are the readers?
Headquartered in London, and Penang in Malaysia, Luxurious Magazine is one of the world's leading online luxury news portals and digital publications founded in 2007 by the British entrepreneur and existing owner and publisher, Paul Godbold. Updated daily with subjects spanning from cars to watches, Luxuriousmagazine.com is today one of the most visited luxury online news portals on the Internet, and the quarterly digital edition of Luxurious Magazine attracts in excess of seven million impressions per issue. Our readers are largely high net worth individuals aged from 30 to 55 years.
Which outlets are the main competitors for Luxurious Magazine, and what makes your publication unique?
Luxurious Magazine has carved out a niche of its own and therefore does not have any direct competitors. We are the leading online and digital luxury magazine on both Google and the Issuu digital publishing platform, and probably no other luxury title has such a highly frequented news portal and digital publication. Our ambition is to become a global household name like Forbes or the Robb Report and we are well on the way to doing this.
Who works on the editorial for the magazine with you, and which sections do they work on?
I work very closely with Paul (the publisher) who lives in Malaysia, Pascale Hayward, the head of advertising, as well as the deputy editor Ong Chin Huat, who is based in Asia and writes principally on fashion. I also liaise regularly with our team of contributors who are scattered across the globe, although most are in the UK. Reena Patel specialises in beauty, fine dining and travel, Sabi Phagura concentrates on fitness, Paul Joseph focuses on the superyachts sector, Simone Zeffiro on photography, and Paul's area and passion is watches. I tend to cover anything automotive as well as other subjects such as premium technology because of my background.
What are the best things about working at Luxurious Magazine? Is there anything you'd change?
The best aspect of working at Luxurious Magazine has to be the variety in terms of the places you visit, the people that you meet, and the topics that you write about. No day is ever the same. So far this year, I have been on safari in South Africa, dined in some amazing restaurants, and I will shortly be reviewing some of Aston Martin's most beautiful cars. It really is a dream job, but there is a tremendous amount of hard work that goes on in the background. The only thing I would change is to have more hours in the day!
Luxurious Magazine is a media partner for the 2013 Aston Martin GT4 Challenge – as someone who has worked extensively in the motorsport realm, what are you particularly excited about covering from the Challenge?
This is a very exciting partnership for us, and the Aston Martin brand is a perfect fit for Luxurious Magazine and vice versa. From a personal point of view, it is nice to be returning to the motorsport arena which I have always had a keen interest in. As part of our collaboration with the GT4 Challenge, we will be going behind the scenes of the individuals participating in the race series to find out about their lives on and off the race track. I think it will be fascinating. To be up close with the cars at different race tracks and to hear the roar of the engines as they tear past the pit wall is also very exciting!
About Luxurious Magazine and freelance journalists
Do you pay for content from freelance journalists?
We don't tend to pay for content from freelance journalists as we are privileged enough to have a solid team of contributors who supply the words for the website and digital edition.
Are there particular sections you commission freelancers to write for? How should journalists get in touch with pitches, and what kind of thing would you be interested in receiving?
We only source content from within our team of contributors but are always willing to hear from journalists across the globe that are able to write about subjects that we currently don't cover. When pitching, which can be by email, it should be to offer material that fits within our publication and that will equally excite readers visually.
About PRs
How does your time working in the PR industry give you an advantage when working with PRs for the magazine?
I think it has been hugely valuable to have worked in the PR sector as it makes you understand mainly what frustrates PRs when communicating with journalists, and therefore as a team, we have adopted a strict policy of honesty, integrity and respect. This means that we will regularly send a PR a link to the coverage so that they can circulate this to their clients, reply to emails as much as possible, even it is simply to say thank you and decline or accept an invitation, and attend events whenever we can in the UK or abroad.
What information from PRs is useful for Luxurious Magazine?
High resolution images and a grammatically correct press release are the most useful elements from PRs. It is also important that the product is right for the magazine as we receive a lot of press releases and pitches regarding brands and destinations that are too mainstream or are not high-end enough. If PRs can give us as much notice when inviting us on press trips or to events, that is always appreciated.
About you
How did you end up in your current position?
I have been employed in the automotive and luxury PR sectors since the year 2000 working with and for some very well-known marques. During this time, I honed my written and verbal skills as well as developing a sound knowledge of brands and products, as well as learning how the media operates in these industries. After seeing some of my work as a PR, Paul Godbold approached me a year ago with a view to becoming a contributor and it seemed like a natural progression for my career. I became a member of the Chartered Institute of Journalists and held the contributor position for seven months, before being promoted to the position of editor last December which I really enjoy, but this role is not without its challenges!
Is social media an important tool for you in your work, and do you tweet personally?
I have used social media for many years and today it is a massively important part of my work as Luxurious Magazine has a social media audience in excess of 20,000 people across the different channels such as Google+, Facebook and Pinterest. We therefore often upload between five to ten stories per day to remain engaged with these individuals. I do tweet personally (largely about automotive subjects), and all content which is posted on Luxuriousmagazine.com is also referred to on Twitter (@luxuriousmag).
What are your favourite parts of Luxurious Magazine?
I think one of the best features of the website and digital editions are the exclusive interviews as they delve behind the scenes of influential and interesting individuals and provide rich content that readers would not have seen elsewhere. Many publications tend to focus on corporate performance, but at Luxurious Magazine, we are more interested in personal views relating to what makes them get out of the bed in the morning and how they see the sector that they operate in developing. There is so much more to discover beyond the regularly quoted statistics and balance sheets.
The team at Luxurious Magazine are tweeting @luxuriousmag.