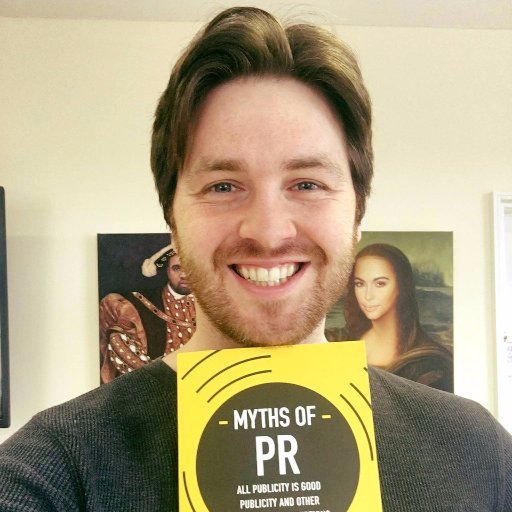 "I can't remember a time I didn't want to write a book, I just didn't think my first published book would be non-fiction!" says Rich Leigh, author of Amazon best-selling book Myths of PR: All Publicity is Good Publicity and Other Popular Misconceptions. 
Rich is the founder of PR agency Radioactive PR and industry blog PRexamples.com. 
Why did you decide to write a book and who is it aimed at?
I recently found a list I wrote 10 years ago, of things I wanted to have done by the time I was 30, which is this October. On it, among a few more embarrassing things like 'enter Men's Health cover model competition', is 'get book published'. I can't remember a time I didn't want to write a book, I just didn't think my first published book would be non-fiction!
Myths of PR is aimed at three audiences. Firstly, business owners and organisation leaders keen to learn about PR, or upgrade their knowledge. Secondly, people keen to break into the industry – be it students, school-leavers or people looking for a career change. Thirdly, and the most obvious audience, PR practitioners and other marketers.
I think there's something in there for people of all levels, and although I would love to say the book is for members of the public in the way Ryan Holiday's 'Trust Me, I'm Lying' conceivably is – mostly because I think it'd be great for the industry if our practises were better understood – Myths of PR is a bit more tactic-specific than that. That said, I never wanted to write a theory-laden textbook, and I think I've succeeded in writing something that's easy to pick up and understand where other PR books might fail.
You've been in PR for almost 10 years now. How and why did you first get into the industry?
Had the recession not happened when it did, right at the start of my working life, I probably wouldn't be in PR.
I was working as a personal trainer, and the majority of my clients decided to bugger off, saying I was a luxury they couldn't afford. My now-wife and I had our first child when we were 18, and I didn't feel that fitness was a viable career for me at the time to ride out the rough patch for my young family, with the minimal experience I had.
It was while looking at career options that I found a job advert for an entry-level role at Gloucester-based PR agency 10 Yetis in the local newspaper. I applied, and to my surprise given I'd no professional experience beyond barking at sweaty people, and my lack of qualifications at the time having dropped out of my A-Levels, I became their first employee. I'll be forever grateful that Andy and Jill decided that I was worth a punt.
When you first started in PR which myths did you believe?
Being completely honest, I had next-to-no idea what PR was, even when I was offered that job. I didn't have any knowledge to draw on whatsoever beyond a vague idea of PR having SOMETHING to do with the press, so I didn't even have any preconceptions to draw on that I could now dub a myth! I made it my business though to learn about as much as I possibly could, as quickly as I could.
You've recently changed your name back to Rich Leigh after being Mr Public Relations by deed poll for 6 months. Why did you change your name to Mr PR and how did it affect your day-to-day life?
I talk about it here in more depth, but let's just say I lost a bet. I'm a man of my word, and my only stipulation was that it wasn't a forever thing, and that I could choose when I did become Mr PR!
I've felt a change in the industry in the few years, mirroring a wider societal shift. Everything and everybody just seems to be so bloody po-faced and serious. I guess I was so keen to embrace the name change as a result of that – I've always clowned around a bit, with things like The CRAPPs awards.
My day-to-day life wasn't really affected beyond answering the phone slightly differently and having to explain what I've dubbed 'the longest and possibly least funny (to all but me) one-note joke in PR history' each time.
I got a few messages saying that they thought I was making a bit of a mockery of PR, but that just made me enjoy the ridiculousness all the more. There's plenty of corporate nonsense to balance me out.
What is the biggest piece of advice you can offer to PR newbies?
There's a huge wealth of knowledge being given away for free online, from some of the smartest people in every industry, if you look in the right places. My advice is – take advantage of it. Read, watch and listen to everything you can. Filter through, take on what works, discard what doesn't.
Your agency Radioactive PR uses WhatsApp to regularly communicate with clients. Are there any other ways you are stepping away from traditional methods?
Using WhatsApp Groups for clients has genuinely changed the way we communicate with clients, and near-enough done away with emails. It's transparent and the best way to keep everyone in the loop, make decisions and build relationships. We also do a daily Radioactive Roundup for startups – more on that (and how to sign up) here.
Besides that, we don't do timesheets, instead delivering against agreed-upon timelines. I know this isn't incredibly uncommon, especially among smaller and/or consumer agencies, but it leads nicely into the second aspect that I believe sets us apart – a very open and measurement-focused approach to client results, as can be seen in the recent case studies on our home page. I think we've found a great balance of creative and strategic work that leads to results clients actually care about. It's not a secret formula thing, it's just that we instil a focus on results beyond coverage into all employees.
We're also, all being well, going to hit 60%+ net profit for the third year running come the end of this financial year. The industry average is 13%, and while I appreciate it's because we're still a young and growing agency – and that the margin will undoubtedly come down in time – it's because I run the agency like a startup. I don't go in for every award scheme going, preferring to make noise in other ways, and we're competing with big and established agencies, but with lower overheads being based where we are. Clients are happy, staff are well-rewarded and developed through both internal and external training and I really do believe we're building something truly special. The next couple of years are going to be incredibly interesting.
What is the biggest PR crisis that you've had to deal with and how did it go?
As an agency that has a real focus on personal PR, we've had a good few recently that we've managed to turn around, including one very public client crisis just this last week. That said, the biggest crisis I've dealt with remains a client issue that spiralled into a full Office of Fair Trading (OFT) and Advertising Standards Agency (ASA) investigation and ended with the closure of the business. I'm unable to say much more about that one, but absolutely one to chalk up to experience. There are one or two in-depth examples of crises dotted throughout my book, too – especially in the chapter about all publicity being good publicity.
Who do you look up to in the industry?
Too many people to list, to be honest. The thing with essentially just making it up as you go along is that you always feel like other people have their shit together in a way that you don't, and as such, there are so many people I look at and think 'Christ, they're doing brilliantly'.
I look at agencies like Edelman, which has remained independent while building a world-class business, and am inspired. Equally, I look at agencies like Manifest and admire their drive, personable branding and commitment to creativity while scaling up. Everywhere you look, there are people, agencies and brands doing great things we can all learn from. That's kind of the reason I started www.PRexamples.com too, to be honest, to keep my eye in and build a credible bank of knowledge of the wider industry. That it's the #1 PR blog in the UK is nice, too!
How do you think the PR industry will change as it moves into the future?
I know I would say this, but I think that geography will continue to be less important as time goes on. While a few years ago a case could have been made for having an agency based in a big city, there are fewer positives in doing so, now. Technology has levelled the playing field and although I can't see a complete decentralisation being on the cards, brands care less about the name above the door now, in my experience, and much more about the ability of suppliers.
I also think that your traditional agencies, especially those that market themselves as sector-specific, will have to expand their offering, specialise in specific marketing areas and tactics instead, expand into other sectors and/or ensure they really, really are the best in their field.