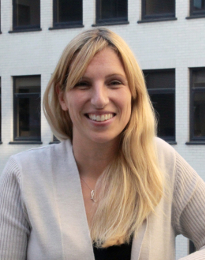 Hi Alex. What has Hotwire been up to lately?
The usual – working hard and playing hard! We've just got back from our annual staff bootcamp event in July – this year the whole company from around the world descended on Madrid for two days of conferences and parties. We used it as the launch event for our new brand and website which we're all really pleased with, and of course it was a lot of fun! The new brand reflects our personality and aspirations as a business far better, and goes much deeper than just a shiny new logo. We've been working on developing our services in a number of areas based on what our clients are asking us for and as a result our offerings around corporate comms, insights and analysis, content, public sector and digital are growing by leaps and bounds. We've also seen a big run on new client wins including FindMyPast.com, Livefyre (including Storify), Veracode and World Remit, and we won an award for our proprietary analytics tool, Listening Post, at the SABREs.
Big data is a hot issue in the PR industry. How is the use of data changing?
Data is such a double-edged sword because while journalists demand it to get a headline they roll their eyes at yet another brand-sponsored survey. PR people have traditionally cared more about the creative than the facts yet are seemingly very happy to pump out self-serving stats on behalf of clients. We all talk about measurement but few agencies or brands routinely wrap campaigns within an analytical framework. To say it's complex is an understatement and that's only going to get worse as the different sources and applications of data increase. The key thing with anything in comms is to ensure that our work has value both to the client and the end audience and what I'd like to see is a shift away from collecting, analysing and acting on every last piece of data, just because it's there, to a far more strategic and considered approach where data enables and informs but it doesn't dictate how we work. Facts and figures can never replace experience and market knowledge and while it is great to be able to know how many people viewed a webpage or downloaded a piece of content, you have to make sure that is really a meaningful outcome.
Does data have a negative impact on creativity?
Absolutely not – if used in the right way. Having in-depth insights at any stage of a campaign can be a wonderful support in creating content and tactics that will really resonate with the target audience, and sometimes it is the weird and unusual bits of information you uncover that spark off the most exciting campaigns. To my mind the most compelling thing about being able to monitor campaigns 'in-play' is that you can test, tweak and flex communications according to how they're received as you go along. Done correctly this helps foster a far more honest and open relationship with clients and allows brands to take far more risks than they might previously have felt comfortable with, safe in the knowledge that they can always change the formula if it's not working.
Is it better to create a brilliantly original and creative campaign, or create a campaign that is based on solidly researched data?
I don't think the two are mutually exclusive in any way. There's nothing wrong with basing a campaign on solid data and while it may not sound that exciting, insights, analysis and measurement should be the bedrock of any campaign. What is important however is to get the balance of logic and magic right – too much of either and you are unlikely to ever generate the best possible results.
How would you deal with the crisis management for a client with a reputation that has been shattered?
Luckily most of our clients bring us in for crisis comms support before anything too disastrous has happened, so we're able to work with them to make sure that if and when a crisis does hit it causes minimum damage. Being well prepared and knowing what the 'worst' might look like is always critical, however not every business has the foresight and humility to accept that they need to plan for failure as well as success! The best defence though is of course having a strong foundation of support, so the more brands can engage with their audiences in a meaningful way on an ongoing basis the better they are likely to be at weathering any difficult times.
What's your approach to preparing a client to face the media; what are the most important things to remember?
We always make sure clients are both media trained and fully prepared in advance of any briefing, giving them messaging points as well as background on who they're meeting and importantly, what is expected of the interview. We also staff every briefing so we are always on hand if the spokesperson needs prompting (or rescuing!). The key things for the interviewee to remember are that it's not a sales opportunity, so cut out the hard sell and the jargon – but equally that they have a job to perform in terms of representing their business. Just having a 'nice chat' with a journalist isn't going to get anyone the result they want so preparing and practicing your talking points in advance is essential.
What's the best practice you've seen from a PR? And the worst?
What I love to see is a serious level of proactivity – both on client campaigns and in terms of supporting the agency. Our team is naturally very self-starting and there is really no room here for people who sit back and just wait to do what they're told! If you're going to do something you have to do it with passion, and by hiring and encouraging people with that level of drive and ambition not only do they create the most exciting client work, they also help the business grow in all sorts of new and wonderful ways. In terms of worst practice the three cardinal sins as far as I'm concerned are 1) sloppiness – a lack of attention to detail is just unforgiveable and I cannot abide missed deadlines or typos 2) failing to demonstrate value – there is no point in producing a campaign that looks great but doesn't impact the business in a positive way, and 3) a lack of ambition – we should always be challenging ourselves, our team and our clients to do more and to do better. Life just gets so boring otherwise!
What future plans do you have for the agency?
We've had a hugely successful year yet again and I have no doubt that next year will be even more exciting! Part of the Hotwire makeup is constantly trying to improve what we do so there are always initiatives on the go to make sure that our clients and team are the happiest around. For our clients it's about continuing to prove the value of what we do through real focus on business outcomes, as well as demonstrating that all the industry talk about integrated communications isn't just PR bullshit. You have to get the balance right between the logic and the magic and I think we're able to show that. For our team we've had a huge focus recently on work-life balance, bringing in a 3.30pm finish on Summer Fridays, reinforcing our flexible working policies, how we manage our time and structure accounts. It's paying real dividends so I'll leave it to the team to tell me what we should focus on after that!
And finally, what upcoming tech product are you most excited about?
There's too many to list but the three areas that seem to be really coming in to their own at the moment are wearables, robotics and the internet of things – sometimes all together! We've seen some amazing products that are yet to be launched in all of these spaces and as well as being intrinsically interesting from a technology standpoint there is no doubt that they will have a real impact on the way we live our lives. The possibilities they open up in fields such as healthcare and automotive, not to mention everyday life, are really mindblowing.