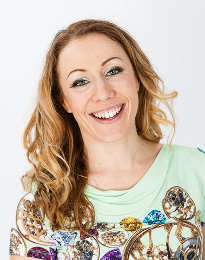 What's been happening recently at Azaria?
2014 is Azaria's 10th birthday and we are setting our sights high on making it a year of achievement and success! We're starting well, with an exciting end to 2013 which saw us secure some significant wins. This meant we have started 2014 with some great new clients which is always a fantastic feeling. This includes high end iconic children's brand Stokke®, whose best-selling product is still the Tripp Trapp® – first launched in 1972! We also recently did some great activity with Makie – the world's first and only 3D printed toys. This technology is just incredible (if you don't know much about 3D printing yet, you definitely will before too long) – it means people can design a doll to look like pretty much anything they want and it can be created by a 3D printer in the MakieLab and sent to them. We printed a 3D lookalike doll of Jesse J and gave it to her at the Selfridges Christmas launch. She tweeted an Instagram pic of her with her doll which over 36,000 people liked and nearly 400 retweeted.
What special knowledge skills are required for handling the PR for the family market?
It's about really getting to the heart of the UK family – what they do, where they go, where they shop, what they watch on TV, which platforms they communicate on and most importantly, how they like to be spoken to. There are nuances in this of course as you travel the length and breadth of the UK, and ultimately it's all about matching a brand to its audience.
Tell us about a recent campaign – what was the brief, the approach, and the result?
We ran a summer campaign for the Active Play Specialist Company Plum Products. We set up all the outdoor play products – trampolines, sandpits, swings, slides, goal posts – in the grounds of a beautiful house and invited press and bloggers to bring their children along to simply play. It was the best way to bring the brand to life – and was a lot of fun! It's not a bad day's work when you get to be a big kid all day bouncing on trampolines and messing about. It was only mildly marred by the weather – but come on, this is the UK after all!
What future plans do you have for the agency?
Azaria is an ambitious agency; we never stand still or take things for granted. We value all the clients we have and are always looking for ways to extend our skills so we can continue to add value to our activities.
We will carry on running our quarterly Panel of Experts and Focus Groups, where we meet with industry experts and parents, respectively, to really understand how the family is developing, what trends are emerging and what we need to know about. It's an ever evolving process and if we stop listening we stop learning (we especially love talking to the parents – they know nothing about PR or marketing and always say everything exactly as it is – warts and all – it's really interesting and pretty refreshing really).
We are looking to resurrect our annual Family Report, which had to take a back seat in 2013 due to client commitments – where we link with One Poll to survey over 2,000 UK families to capture the year gone by and their thoughts for the future. We have used the information gleaned in the last few years of Reports to shape our ideas and activities. We will continue to showcase our expertise and experience in the nursery industry, an area in which Azaria has now worked for 10 years. We are regularly called on for advice and information in this arena and we enjoy working across a diverse number of different products and brands.
When is it appropriate to say no to a client?
With respect to all clients, sometimes we just know something isn't going to work. Usually that comes from experience or just an inner instinct. The last thing we want is for a client to invest hard earned budget in to something we know won't deliver, so we just have to gently advise and guide… Also, it's the old chestnut of what makes a national news story and what doesn't, but I'm sure we've all been there!
What's the best practice you've seen from a PR? And the worst?
Lego always do such great PR activities – they have budget to do really fun and innovative things. They are always looking ahead, keeping up with the trends. There really aren't many brands that can still be in the top 10 Christmas gifts nearly 100 years after starting! The worst – it's hard to say, it's probably those brands that set up a Facebook page then post boring content and never reply to the customer services complaints which brands inevitably get from time to time. There's nothing worse.
How would you deal with the crisis management for a client with a reputation that has been shattered?
No-one wants to be in this situation, but the key to crisis management is anticipation and planning. You need to have a plan agreed in advance, in writing, for any scenario that might arise. It's a lot of work and may seem like it's not a priority for a new brand but it's essential. Then the key is not to panic, but work quickly to follow the plan methodically, don't cut corners. And overall, with so many brands being on social media where things can escalate extremely quickly, the key is to get on the case, talk to your customers, be open and honest. Mistakes will always be made, but it's how brands handle them that really counts and can actually earn more respect from their customers.
How do you ensure you create tangible results for the client? What methods and measurements do you use?
Ah, the age old debate of measurement and evaluation. To a certain extent PR is about word of mouth, influence; it's a feeling people have when they think about a brand, for which there is no measurement. But of course we have to prove our worth, so we use Google Analytics and Facebook's Admin Panel to get stats, we clip our coverage of course and record and measure the reach, key message delivery, call to action. Ultimately we meet with our clients and look at sales targets and what we bring to the wider sales and marketing activities. That's what it comes down to.
Is the need to develop relationships with press journalists as important now since the rise in use of content marketing and social media?
Yes. It's important that journalists see an email in their inbox from Azaria and know it's going to be spot-on for their publication. That it'll contain everything they need to know and make their job easier to do. That comes from having a good relationship built up over time. But yes, PR is definitely evolving and the emphasis on meeting with journalists (as we did 10 years ago) has clearly diminished. In the family arena print titles do remain important; we've found that at key life stages people want to buy a magazine for the simple pleasure of flicking through pages made of glossy paper! These tend to be life-changing events such as having a baby or getting married.
How do you balance journalists' needs with ensuring your clients get the right coverage?
Ultimately the journalists are the gate keepers; if they don't like it, they won't use it, so the skill is giving them what they want whilst getting all your client's messages across. Not easy, but absolutely possible.
Bloggers: an editorial opportunity or a passing trend?
Good question. My opinion is that people will always want to read well-written, interesting visual accounts of things they are interested in, be it food, beauty products or baby things. The really good ones will be here to stay and have the potential to be huge, the rest will be a passing trend.
Azaria can be found tweeting @azariapr