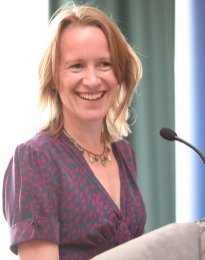 This week, we delve into the world of voluntary sector PR with Carolan Davidge, director of communications at Cancer Research UK. From spreading the organisation's important message through campaigns and social media to overcoming fundraising challenges, Carolan gives an insight into one of the UK's biggest charities.
About the organisation
What information does Cancer Research UK find itself communicating, and towards whom?
Cancer can touch anyone so we communicate with everyone. More than one in three of us will get cancer at some point in our lives. Thanks to research, survival rates have doubled in the last forty years. But there's so much more to do and we need everyone's help if we're to continue our pioneering work to save more lives. We also tell people they can help themselves by adopting healthy lifestyles to reduce their risk of cancer and by going to their doctor straightaway if they have signs or symptoms that worry them.
How do you ensure the charity is communicating its message effectively?
We regularly ask people what they understand about cancer and Cancer Research UK and we adapt our messages in response. We talk to people every day through our social media channels like Facebook and our CancerChat forum.
What has been the biggest challenge for the charity?
The current economic climate is making fundraising more difficult. It's more important than ever to demonstrate the progress we're making and ask everyone to support us. We don't receive any government funding for our research so each and every one of our supporters plays a crucial role in funding our vital work.
About your work
What are the key groups that the charity communicates with on a day-to-day basis?
We communicate with supporters, patients, scientists, journalists, politicians and other charities. It's only together that we will beat cancer.
Tell us about one initiative/campaign you are working on at the moment.
We're about to launch a new campaign urging people to get any worrying symptoms checked out. We know from research that people really fear cancer and that often leads to them putting off going to the doctor. But the earlier you're diagnosed, the better your chance of beating cancer and living a long and healthy life.
How do you balance the use of social media and traditional communications in your campaigns?
Whenever we have a big story, we think about how best to communicate it. As well as issuing a press release, we might write a blog, start conversations on Facebook and Twitter, produce videos, podcasts and graphics.
What has been your most memorable campaign?
I'm most proud of being part of the team that helped get smoking banned in public places. Smokefree legislation has protected workers from second-hand smoke, encouraged people to give up smoking and made going to pubs and restaurants much more pleasurable.
About journalists
Which areas of the press do you communicate with the most?
Scientific advances are usually covered by national science and health journalists. We'll talk to consumer media about health campaigns and fundraising initiatives. The regional media is key to our communications. Coverage in regional dailies and weeklies, together with partnerships we've had with TV stations, has helped build Race for Life into the incredible event series it is today.
What can you offer to journalists seeking a story?
As well as great news hooks and feature ideas, we can offer statistics, interviews with patients, celebrity comment and multi-media content.
How do you build and maintain strong relationships with journalists?
The best way to build a great relationship is to give the journalist a great story. We keep in touch with our key contacts on a regular basis, meeting up from time-to-time for longer conversations about what's coming up.
About you
What media do you seek out first thing in the morning?
I wake up to the Today programme on BBC Radio 4 and catch up on all the morning news on the train via my BlackBerry.
Name three guests you'd invite to a dinner party and why.
John Humphrys, Stephen Fry and Tony Blair. I'd hope for wit, argument and somebody to pick up the bill.
What is the best piece of business advice you've ever been given?
Build relationships. At the end of day, it's all about people.
[img|jpg|Carolan Davidge]