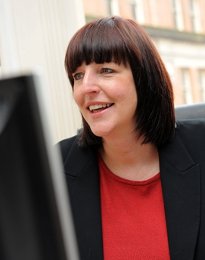 About the agency:
What industry sectors does Ethos specialise in?
We want to avoid being seen as a specialist agency because between us all in the team we have worked across so many sectors. My fellow directors have a lot of contacts in the co‑operative and social enterprise sector so we have numerous clients there – but we also work across other business sectors, from charity and renewable energy, to beauty and home improvements.
What is special about the agency's approach to PR?
When we work with a client we try to become a part of their management team, so there is a seamless blend from one organisation to the other. If we are kept at arm's length we cannot do our job properly. A lot of our clients have been with us for many years, but that doesn't mean we are not kept on our toes. We have to re-pitch for work as per our clients' procurement processes or we have to review what we have done and sometimes approach communications in a different way.
We are also proud of our 'ethical' approach to business, which we were doing long before it became fashionable. That doesn't mean we are all vegans and wear sandals – it's all about how we manage our own business; we don't tell people how to run theirs. Having said that, we will only work with people we like – I think that's an important ethos for Ethos!
How do you ensure your clients get the right coverage in the press?
This comes back to being a genuine part of the team. We need to know what is happening at all levels, from the shop-front to the boardroom and that way we can help spot – and therefore develop – potential stories. An understanding of key press is crucial – knowing what a journalist wants, what is right for a certain medium, when to approach the press, and so on. We are also quite strict in deciding what makes a good story – often clients will say 'here's a great story' and sometimes we have to tell them it isn't.
I have, in the past, freelanced for other agencies and I am always amazed by PR people who promise the earth and then deliver very little. I think that is dishonest and doesn't do PR in general any favours.
What qualities do you look for in new recruits?
We like to recruit positive, enthusiastic people who are interested in what we – and our clients – do. It's nice if they are keen to make a difference – not only in their job, but outside work too. We are a hard working, close-knit team, so we look for people who fit in with our philosophy.
In your opinion, what are the main challenges facing PR today?
For a number of years we have seen the fragmentation of the communications channels available for PR and this has been accompanied by a raft of new social media platforms and a less cohesive press – especially the local press. The demise of traditional publications has radically changed the way PR people have to do business and, going forward, I think we will see many more 'local' websites, where the local community will publish its own news.
The challenge is to identify the important communications channels and to ensure we reach the audience in an appropriate way. Essentially, the middle man, i.e. the press, is being cut out and clients are more often talking directly to their audience – whether that's via Twitter or a piece of direct mail.
About clients
Can you list some of your most well-known, or respected clients?
We have worked with Action For Kids, a national charity for disabled children and young people, for many years and the charity is one with which we have a very high level of empathy. We also work with FrithRugs, Co-operatives UK and Energy4All.
Tell us about one of your clients you recently worked with. What was the company's brief, your approach and the result?
Last autumn, Parliament approved new powers for credit unions, allowing them to offer more services to more people. Our brief from the Association of British Credit Unions Limited (ABCUL) was to communicate these changes to a national audience through print and broadcast media.
We agreed a PR plan with our client and identified key media contacts. We wrote a number of different press releases for national media as well as third sector, financial and business publications. We created a media pack with case studies, background information and statistics about credit unions. Interviewees were also made available.
We secured over 125 pieces of coverage including BBC Breakfast, Your Money, Radio 5 Live, You & Yours, The Guardian, The Mirror, The Sun, the Daily Mail and the Financial Times. As a result, the website received three times as many hits as usual, with peaks whenever coverage took place, and many credit unions reported increased enquiries.
How do you balance the use of social media and traditional PR in your work?
The balance is dictated by our clients and their core audiences. It's no good recommending a social media campaign to a client with an audience that prefers a newsletter. However, it's not really a case of 'either or' – it's a combination of numerous tools working together to hit the mark.
Is there a potential client you'd love to work for?
Lush, John Lewis, The Oddfellows, The Co-operative Bank – essentially those organisations and businesses with principles we like.
About journalists
Which areas of the press do you communicate with the most?
Due to the mix of our clients, we liaise with all sections of the media on a regular basis. This week, for example, I have been setting up a Radio 4 interview, working with Inside Housing to develop a particular angle for a story, liaising with Period Homes magazine to secure product placement, setting up a client interview with the Manchester Evening News and placing a story in an online green energy website. I have also just been establishing a dialogue with Disability Now, which is the first time I have worked with them. This mix of online, broadcast, trade, regional and specialist/trade is a fairly typical reflection of our working week.
Which media outlets or journalists do you find you work with the most often?
This tends to reflect our client base and we have good contacts at many of the national papers in the business, personal finance and social affairs sections. On a day-to-day basis we are in touch with the specialist and trade sectors – people at Inside Housing and 24 Housing, for example, are on my frequent caller list – and we regularly work with regional newspapers in the areas we operate.
What can you offer to journalists seeking a story on one of your clients?
Whatever they want! We recognise our job is to be as flexible as we can when responding to journalist requests. Where possible, we try to ensure that key journalists get an exclusive or a different angle to their competitors – even a different photograph is appreciated. We believe in encouraging clients to talk directly to journalists – we don't act as a barrier between the two parties.
How do you build and maintain strong relationships with journalists?
It's a bit old fashioned but nevertheless true – we respond when we say we will and with the information we said we would provide. I like to think we go out of our way to deliver what a journalist wants – after all, if we don't, it is both ours and our client's reputation on the line. I would add, however, that this is a two-way street – journalists sometimes call with unrealistic deadlines, which can be frustrating!
About you
What media do you seek out first thing in the morning?
First thing, I watch BBC Breakfast, then when I get to the office I scan-read Inside Housing's online daily service and the Manchester Evening News business bulletin. I then check my clients' social media accounts to make sure all is well and to find out about any new followers. Across our team, we read most of the nationals, either online or in print, and we usually have a chat when we get in the office about anything relevant or interesting that day.
Name three guests you'd invite to a dinner party and why.
Queen Elizabeth I because I think she was a woman way ahead of her time and a really good strategist and negotiator – she would have had her own agency, I'm sure! The author Jeanette Winterson because I love her romantic take on the North West, and Johnny Vegas, because when good Queen Bess gets a bit above herself and Jeanette starts crying about her childhood, he could make us all laugh!
Do you attend networking events? If so, which are you attending soon?
Between us we have attended various networking events but I have yet to be convinced about any, really – though I do keep threatening to take up golf to see if that really does bring in any new business!
What is the best piece of business advice you've ever been given?
Treat everyone you meet with respect – regardless of their job title.