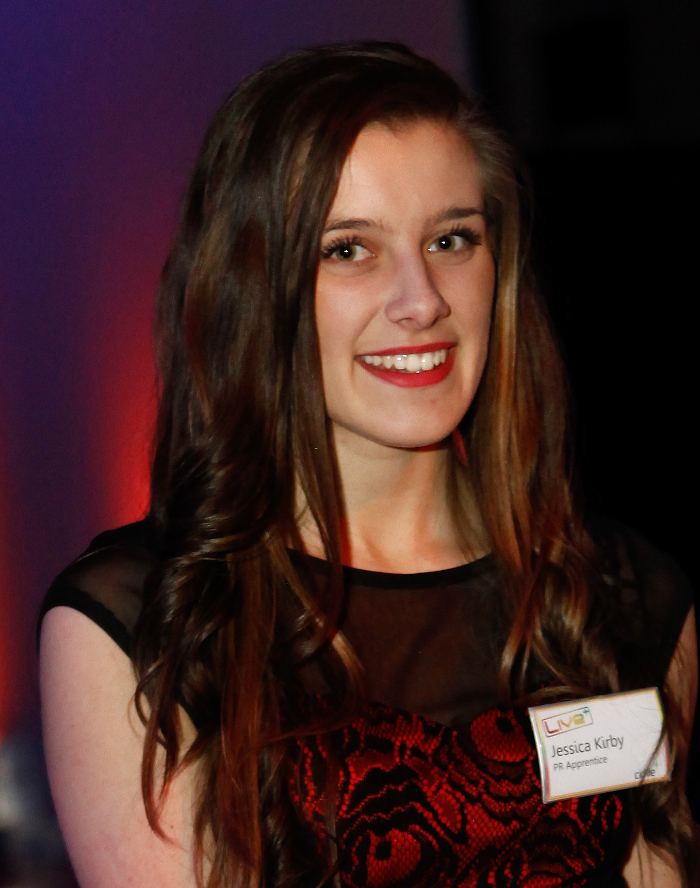 Hello Jessica! So, you're in the process of completing the PR Higher Apprentice, can you tell us a little bit about the scheme?
Hello! I am indeed. I am one of the ten first UK PR apprentices, which is a real privilege. My apprenticeship will last for a year and I am already nine months in. The apprenticeship is a great step into the PR industry; people spend years at university and try to get a break into PR but this way I get on-the-job training and gain invaluable experience.
And you're completing your apprenticeship with Cirkle. What does the apprenticeship involve at this agency? Are you enjoying your time there?
I have completed half of my time working on the B2B clients and am now working on the consumer clients. My work is varied working at Cirkle; I can be writing a press release one day and the next I am helping a client to manage their social media platforms. I am very lucky to have been given the opportunity to experience both aspects of the agency. Cirkle is a great agency to work for, there is a real buzz in our office and we all bounce off of each other. It is a great first office experience working at Cirkle; being in a creative industry means there is never a boring day in the office!
Are there other people completing the apprenticeship with you at Cirkle? If so, are your apprenticeships bespoke in order to get the best out of each persons' skills and experience?
I am the only apprentice at Cirkle but I am close to the other apprentices in my cohort and, obviously, working at different agencies we are all gaining different experiences. Each of these counts for something towards our apprenticeship. It is a great way of measuring the progress we are making as we can see what we have accomplished and when and what we need to complete still. It is a lot more interactive than sitting and reciting what we have learned, it is about how we apply it within our workplace and that's why I enjoy it.
What has been the most exciting thing you've been asked to do so far?
The most exciting thing; that's quite a tricky question because there have been a few! I think I would have to go with a recent experience I had. One of our B2B clients was holding their annual event and I was given the responsibility to source the venue and liaise with a design agency to create an invite – this in itself was a big ask of me, which was great! I felt a real sense of achievement while at the event as I saw it all come together and received some great feedback from my employer and the client.
And the most challenging?
For me, moving from trade to consumer was quite a challenge as it required me to really engage and focus on the different styles and tones required. I was no longer writing about the sales opportunity that a product presented; it was all about the product and what qualities it had, which was an interesting transition. It has been great to be able to experience both first-hand as it has helped my understanding of public relations massively. Working on both sides of the agency has made me appreciate why both exist and what is the aim of each.
How has your development been monitored?
Within my work at Cirkle, my work is constantly monitored as I have a mentor who checks my progress. She checks that I am completing tasks accurately and that I am being given varied tasks. While throughout the apprenticeship I have meetings with my assessor at my office, where we go over what I have completed within my workplace, what units these fall under and how I can further myself within the apprenticeship.
What do you hope to achieve before your apprenticeship finishes? Where do you see it leading you professionally?
Before my apprenticeship finishes, there aren't a huge amount of things I still want to achieve – I have secured national coverage, which was on my to-do list! While I am still in my apprenticeship, I want to drive as much awareness of apprenticeships as a positive education path as I hope that people can begin to appreciate their worth. Well, PR is definitely an industry that I want to develop within, as it is constantly developing and growing. I would hope that after I have completed my apprenticeship and gained my qualification that I will be able to start working for a PR agency on a permanent basis and gradually mature within the industry. I would love to be able to a be an ambassador for apprenticeships after completing mine and to prove that they are a good way to achieve a career.
How did you get involved with the scheme?
My story is a little bit different to the other apprentices. While the other apprentices were busy attending CV writing workshops and assessment days, I was nowhere to be seen on the PR radar. I was working in a restaurant when a customer made a comment about my use of initiative and proactivity – that customer turned out to be Caroline Kinsey from Cirkle. By following up on this comment, I found myself with 24 hours to prepare for an interview and ultimately research what PR was! I then beat several other applicants and was chosen for the apprenticeship role at Cirkle.
What advice would you give to others who are interested in taking part in the scheme?
Don't hesitate to apply; I am not saying that university is not worthwhile – but it is not for everyone and I think it is time that people realised this. I love learning and thrive on completing a challenge and yet I knew university was not for me. Apprenticeships offer the young people of today a platform to access competitive industries as well as brilliant training that result in a solid foundation to progress.
What's the most valuable thing you've learnt about the industry since you've been doing the apprenticeship?
Well, before I started the apprenticeship I could not have even told you what 'PR' stood for and seven months later I am working hard within the industry. So I would have to say learning what Public Relations is and why it is important and how it impacts a client's business.
Name three guests you'd invite to a dinner party and why.
This is the hardest question out of all of them! I would invite Lord Alan Sugar as I think he would have some fascinating stories about his life in business and I am an apprentice after all! Then I would choose Andrew Lloyd Webber for my love of musicals and finally, Channing Tatum because well, who wouldn't want him at a dinner party!