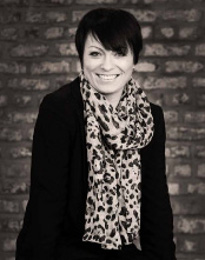 About the agency
What's been happening recently at OPR?
OPR was named the North East Outstanding Consultancy of the Year in November 2012, and shortly after I was named the North East Woman Entrepreneur of the Year. OPR is a Newcastle PR agency that provides press, on street, social and digital PR for a range of business and consumer clients. We're seven years old and have won over 30 awards for our work in the last few years.
What is special about the agency's approach to PR?
We are committed to doing 'work that works' for our clients, so we spend a lot of time understanding the issues our clients face, get under the skin of their customers and create a channel-neutral strategy that delivers them a truly clear ROI. We then inject a big dose of creativity to ensure every campaign is anchored around a brilliant idea. Our clients work with us long term mainly, so we see ourselves as an integral part of their strategic team.
What future plans do you have for the agency?
OPR has started working more outside the North East and abroad in the last year, so we'd like to continue to spread our wings. We'd like to continue working with other ideas people too – we like bringing our specialism in PR and content to the table and working with other marketers to do great work together.
About the industry
You were awarded the North East Woman Entrepreneur Award 2012. Do you think the PR industry is leading the way in breaking the so-called glass ceiling?
What glass ceiling? I can honestly say I've never felt that. The industry has some fantastic female talent (my business is 90% female) and I have never experienced any prejudice from clients in accepting my advice at a very senior business level.
The corporate world might be a little different, but I think this is the decade that PR needs to take a seat at the top table. Every company with an in-house function should have their PR/comms person on the board – if they happen to be female, then great.
How do you think the PR industry on the whole has coped with the rapid change to digital?
I think the PR industry grasped the social media opportunity much earlier than other disciplines, because our skills set sits very neatly with the transparent and two-way nature of social media channels. We have always been relationship builders, understanding tone of voice and knowing how to react quickly in a crisis.
In your opinion, what are the main challenges facing the PR industry today?
We are still underselling ourselves in my opinion – it's time PR stood up and put its cards on the table and showed the ROI we provide. PR is at the epicentre of doing business in today's world – we can shout in the marketing mix, not whisper.
About clients
Who are some of the agency's most well-known, or respected clients?
OPR has created campaigns for Tyne & Wear Metro's Pop Card (our equivalent of the Oyster card), the Time to Change mental health campaign (our North East campaign created a regional rollout toolkit), the North's biggest motor retail group Benfield (we handle its social media strategy), the Metrocentre (its 25th birthday year) and we also specialise in regeneration, promoting big inward investment sites Quorum Business Park and Newcastle Science Central (one of the UK's biggest urban regeneration schemes).
Tell us about a time you devised a campaign for a client through social media – what was the brief, the approach, and the result?
We work alongside Benfield Motor Group's in-house team and strategic marketing agency to develop its social media strategy and create campaign content. Adopting its strapline "Enjoy the Journey" we have created a social channel and content strategy over the last 18 months that has taken the company from Facebook and Twitter to YouTube, Pinterest and now publishing its own blog content.
It was important from the outset that we reflected the values of this family business brand, and ensured all social activity was open, engaging and entertaining for its customers. What we are not doing is just talking about the product – we are helping people "Enjoy the Journey".
One campaign we devised was called Benfield Charity Drive. The company donates 5% of its profits annually to charity, but it wanted to hear from smaller grass roots charities it could help. We opened it up to its Facebook fans to decide where the money should be spent in their community. Benfield gave away ten thousand pounds across three charities decided by a public nomination and vote on Facebook, and the engagement across all the social channels was immense. The Facebook likes alone grew from 120 to over 9000 in less than three months. After a successful first year, we've just run the campaign again on an even bigger scale across North East, Yorkshire and Cumbria.
What advice would you give to recent business start-ups on their PR strategy?
Get some professional advice to create a PR strategy that is right for you, don't go from a template or just start sending out press releases. You might decide to create your own content and manage your social media yourself but help in understanding what your message and tone is, how to understand and target your customers and how the right PR activity can meet your business objectives is worth its weight in gold. And if you do decide to hire a consultant or agency as your company grows, ask companies whose profile you admire for personal recommendations. Or ask a journalist!
About journalists
Is there anything the agency is particularly experienced at when helping out journalists with their stories?
We are very lucky we get recommended by a lot of journalists as our media contacts like working with us. There's no rocket science to it – it's about treating your contacts with respect, providing great ideas and perfect copy, meeting their deadlines and tracking what they do so you are always relevant. We use Twitter a lot to track individual journalists and bloggers, and we regularly have 'Meet the Editor' sessions at the agency to understand their editorial policy and current needs.
Finally, we provide excellent pictures and videos through our in-house multimedia content studio– not enough emphasis is always given to this, but we find journalists love our images and video clips – they really add another dimension to their story.
What are your three tips/rules to building and maintaining strong relationships with journalists?
1. Don't hide behind email. Talk to them – ask what they're looking for.
2. Don't mess about with exclusives – play fair.
3. For heaven's sake, read their work before pitching a story.
If you could ask a journalist one question out of the ordinary, what would it be?
If you weren't a journo, what would you be? I love asking this of anyone – it's surprising what weird and wonderful ambitions people harbour.
About you
What media do you seek out first thing in the morning?
Twitter – I follow all the major media channels. If I have time, I'll have BBC Breakfast on – and local radio on the drive in.
Name three guests you'd invite to a dinner party and why.
Vivienne Westwood – she fascinates me in her "oddballness" (and I love her clothes), my paternal grandfather – he was a sub-editor but I didn't ever get to talk to him about life in the heyday of daily newspapers, and David Attenborough (I have watched him on TV ever since I can remember).
What's the first rule of good PR?
Be a good listener – and care passionately about what you are hearing. Only then can you create a solution that is right for your client.