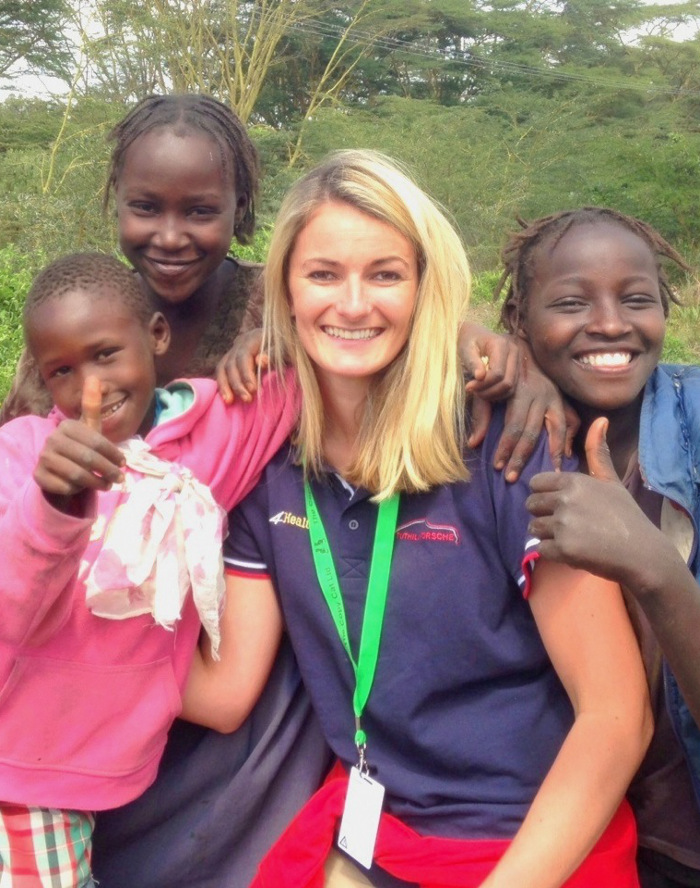 You've just returned from the Safari Rally in Kenya and Tanzania. What PR work for Mediatica were you involved with over there?
I was looking after the media relations for Tuthill Porsche, a British-based company that specialises in building classic cars for customers across the globe. It's a relatively small company but they've had a huge amount of success on the world stage so it was my responsibility to publicise their activities in Africa to the media. We covered more than 2000 miles over ten days so we were constantly on the move and internet proved challenging as we were in the bush most of the time. I was writing stories for various websites, distributing end-of-day press reports, liaising with the 17 Tuthill drivers and their respective media and writing a daily blog. I was also sending images from the event photographer to the picture desks as well as co-ordinating our film crew and helping to keep Tuthill's social media and sponsor pages up-to-date. It was exhausting but an incredible event to work on and we managed to get some good coverage for our client.
What is your motorsport background? Was it your passion for the sport that brought you to Mediatica?
I've always been interested in sport and wanted to work in media since I was young but I never envisaged I'd end up in motorsport. I started my PR career working with a small events agency where I was thrown in at the deep end and forced to learn very quickly. I then became attracted to a job in motorsport because of the opportunity to travel so I applied for a role working on the World Rally Championship. The new job meant I had to relocate but I knew it was a great opportunity so I took a risk and went for it. It was the best thing I've done. I travelled with M-Sport for two years as their press officer before moving to London to take on my current role with Mediatica.
Does Mediatica work exclusively with motorsport clients, and what kind of PR work are you involved with?
No, not exclusively – we work on a mix of motorsport, automotive and lifestyle accounts. For a small agency we look after some big clients, such as Pirelli and Eurosport, but we also manage social media programmes and media relations for individuals, too. We run an automotive website too – MAXRALLY.com – and as a company, we are commissioned to write for various magazines and websites. Most of the team come from a journalistic background so writing is one of the company's biggest strengths.
Mediatica is comprised of only four individuals. How does the agency structure itself for client work?
We tend to have our own clients but we chat regularly about progress and bounce ideas off one another. Even though there is a main point of contact for each account, our clients know each of us so there's never a problem with someone stepping in to help when it gets particularly busy or someone is on annual leave. I've ended up going to New Zealand, Corsica and Ukraine as a result of stepping in for a colleague so it's certainly not something I complain about!
Motorsport must be quite a male-dominated environment. What's it like from a female perspective?
I get asked that question a lot but working with so many men really doesn't faze me. I grew up with two older brothers so I guess I'm used to dealing with men and holding my own! I think some people assume that because you're female then you can't possibly know much about anything motor-related but that perception is starting to change. It's interesting that there are more female F1 press officers in the paddock than men nowadays so it's certainly becoming less of a male-dominated environment than it used to be.
How would you deal with the crisis management for a client with a reputation that has been shattered?
It would depend entirely on how the reputation had been shattered so that's a difficult question to answer without knowing the full context. It's hard to change public opinion overnight, which of course is the main difficulty of working in public relations. However, I do believe that a well thought out PR campaign can do wonders for a company/person's reputation.
What exciting adventure is next?! Learning to drive Porsche 911s on ice, we hear….
Yes, I'm taking eight journalists and a photographer to Sweden next week to experience my client's ice driving programme (belowzeroicedriving.com). I'll be hosting a mix of writers from national newspapers, consumer and luxury publications so we should get a good spread of coverage. I did a trip there last year and it was well received so hopefully everything will go smoothly again this year. It's hard not to enjoy ice driving in a rally-spec Porsche 911 though… even those who have no interest in cars would like this trip. The setting is stunning, too.
Surely your job can't be this much fun! What are the not-so-great aspects? Has anything ever gone horribly wrong?
There are definitely a lot of good things about my job, but the thing about motorsport – or any sort of job in sport, for that matter – is that it's not just nine to five. Most events fall over weekends and I find that no day goes by when I don't check my emails. It can be hard to switch off at times and of course it's difficult to please both clients and journalists simultaneously. But that's public relations for you; I'm sure any other PR will say exactly the same thing.
What's the best and the worst thing about being such a small agency serving a niche sector?
The risk of losing a big client is probably the worst as it can start to affect cash flow when it's a smaller agency. On the flipside, I think some clients are put off with working with bigger agencies. Some of the fees they charge are astronomical and I don't think they necessarily do a better job. In the current economic climate, I think smaller and more affordable PR agencies are looking more appealing than ever.
How do you balance journalists' needs with ensuring your clients get the right coverage?
In my opinion that's one of the hardest things about working in PR. Often you are trying to please everyone and it can be really tough when you don't get the result that your client is looking for. However, I do think that constant communication between the client and the journalist helps. I always follow up with journalists immediately after a press trip or media event to ensure they have the correct information. That way there's less chance of any surprises when the story gets published…
The Mediatica team can be found tweeting @Mediatica.