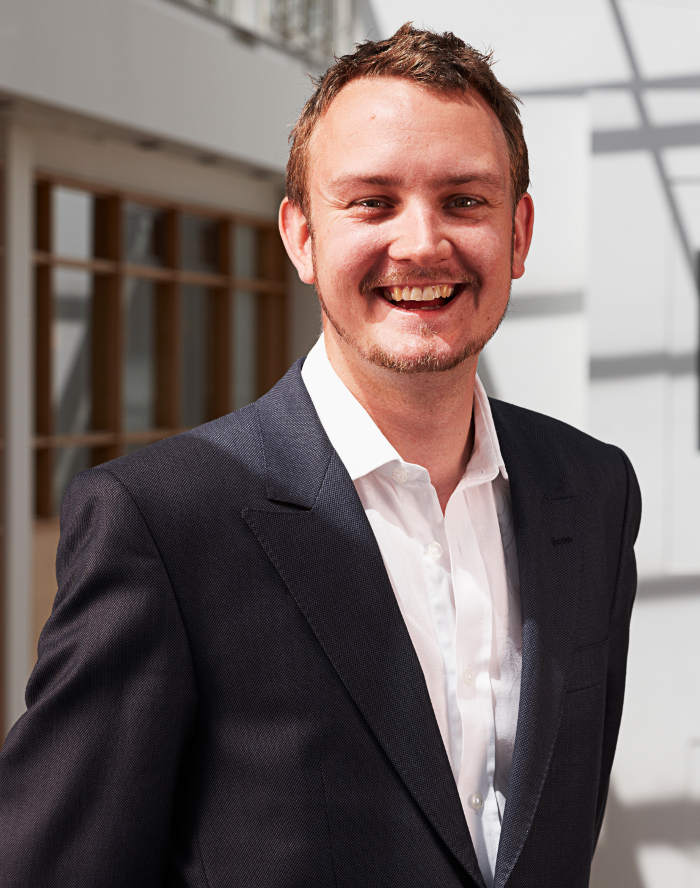 Tell us about your role within CCgroup…
I'm the managing director of CCgroup, a B2B tech PR agency based in London, and I'm also responsible for Escapade PR – a Thames Valley-based consumer lifestyle and tech agency. I've got 13 years of experience in B2B tech PR, all earned with this very company. Which either suggests I'm incredibly loyal or I lack imagination…
Day to day, I get involved in client strategy and some implementation too – I hate the idea of losing my core PR skills just because I'm in charge. I spend a lot of time researching the dynamics of the markets in which our clients operate, and the skill sets we need to support them as an agency. And finally, I spend a fair amount of time on business development and the mechanics of running the company. I'm a bit tragic, I love metrics and spreadsheets.
What else has been happening at the CCgroup recently?
Recently my partner in crime Paul Nolan and I concluded a management buyout of CCgroup. At the same time, we promoted four colleagues and created a new, dynamic management team. We're both very excited about it, and several months on we still can't quite believe we actually own a company.
We brought on board a gentleman by the name of Will Gardiner who has taken the lead on professionalising our measurement and enhancing our digital capabilities. In his 'spare' time he has launched CCgroup's new Business Technology stream which looks after the enterprise technology sector.
Charlotte Webster joined us last year and together we launched our CleanTech division. The truth be told, it's a very challenging market. But it's a market we care passionately about and one we feel is strategically important for the future of CCgroup, like mobile was a decade ago.
We've done a lot of research in the CleanTech and renewable energy space to understand how different influencers think and how different audiences buy. The insight has been very well received and we've been invited to speak at many different conferences as a result. Most recently Charlotte addressed the International Renewable Energy Agency in Abu Dhabi as a result of an article using our research in an Australian publication. So we're building a reputation for delivering quality communications in CleanTech.
This year we won a Sabre Award for Thought Leadership in PR and were also shortlisted by The Holmes Report for Technology Consultancy of the Year in EMEA. We found ourselves up against agencies twenty times the size of CCgroup, so to be recognised is a phenomenal achievement.
What is the company's ethos? Is this central to your PR work?
Two and half years ago, we became absolutely laser-focused on the commercial aspect of PR. So much so, that we built it into the company's mantra:
We're a PR agency with a strong commercial focus. We help our clients generate sales leads, demonstrate value and position for exit.
That's what we're about and that's what makes us very different. But many PR agencies have jumped on that bandwagon in the last 18 months. We'll see who walks the walk.
What future public relations plans do you have for the company?
Quite a lot. We're just about to launch into enterprise. And I expect to open additional streams over the next couple of years.
Our digital offering is growing dramatically and we're finding ourselves doing more work that would be described as content marketing rather than straight PR.
We recently unveiled some in-depth research into what makes target audiences buy in enterprise technology and will soon be launching similar insight into fintech circles. These are huge and expensive undertakings, but the reception we get is outstanding. It'll be fascinating to see the reactions of clients and prospects. It's exciting stuff that's unique to CCgroup.
And finally (we're busy – this is what happens after an MBO!), it is important every PR agency really looks at their team make up and at the type of skills and behaviours they're buying in and developing. So watch this space: you'll be seeing something of a reorganisation of how we build account delivery teams.
What is your stance on SEO and social media? How best can the traditional PR world (or at least what's left of it!) continue to encompass digital PR?
I don't think there can be any difference between traditional PR and digital PR anymore. I don't see the delineation.
SEO and SEM are the two principal areas where "traditional PR" – and the skills that it values – can support "digital PR". Successful link building campaigns depend on quality content. Creating quality content that influencers and experts will share and link to demands deep sector knowledge and storytelling skills. This is typically where PR agencies, especially those in complex industries like B2B tech, will trump content marketing agencies, marketing agencies, and digital agencies every time.
Every time Google updates its search algorithm, PR agencies benefit. Now that IS something to get excited about.
However, what I will say is that I can't think of any PR agencies that think 'SEO' when planning media campaigns. As a result, the measurable impact of what they deliver is more limited than it could be. We're just finishing up some research with our SEO agency to put that right. For me, it's a critical part of the puzzle.
As far as social media is concerned, you have to take it in the round. We find that the work that we do in Escapade on the consumer side of things differs dramatically from the work that we do in CCgroup. In the B2C world, it is absolutely critical that PR functions take control of the social presence of the brands concerned – which of course we do a lot.
In B2B, it's much more about helping clients understand the social environment and where and how they should be building a presence.There is a lot of misinformation and received wisdom about social as it applies to B2B tech markets. I've seen agencies peddling expensive social campaigns with no grounding evidence. Yes, social has a role to play, but its impact is more limited than many so-called 'experts' suggest – I've seen the data!
How do you think the PR industry on the whole has coped with the rapid change to digital? What's next on the horizon?
I don't think that many agencies are behind the times in terms of the practices involved in digital. But I do think they are well and truly behind the hype – which isn't necessarily a bad thing.
In Escapade, we've gained a lot of our social work from 'digital' and 'social' agencies because they lacked sufficient depth and knowledge. Also, quite frankly, there was dramatic overcharging – as tends to happen in highly-hyped businesses.
I don't think on the whole that PR reacted fast enough to the shift, but I think it is starting to accelerate and incorporate the disciplines in a more considered and professional manner. Unfortunately, that has created a view – or potential reputation – that PR isn't as quite up to speed as it could be and that's something the whole industry needs to address.
One of the great opportunities that digital offers PR is total traceability and total measurability. As far back as my time at Bournemouth University studying a PR degree (14ish years ago), we were bemoaning the lack of 'professionalism' and the inability to measure. Well, times changed. We've been able to do it for two or three years and it's a bit disappointing that the PR industry hasn't seized this opportunity.
In your opinion, what are the main challenges facing the PR industry today?
Continued relevance and, ironically, its own PR and reputation. I've never known an industry so keen to predict its own demise. I think the future for PR is incredibly bright. For me, the main challenges are about maintaining sector-specific knowledge and capabilities. I think it's about taking the client with you, outside of what they might consider and re-educating them on what PR is really all about.
From a purest perspective, PR is public relations – it's not media relations. Of course, media relations still has an important role to play, but there is an awful lot more to successful PR campaigns than most corporate PR people would tend to think.
It's that re-education – of ourselves, and of our clients – that is important. Unfortunately, digital and social agencies have been out there doing this for us for far too long. For me that's the biggest challenge: the re-education.
Tell us about one initiative/campaign you are working on at the moment. What is the brief, the approach, and the intended result?
We've just announced ZNAP as a new client to the GlobalCom network. CCgroup will be leading the regional PR teams to position ZNAP as the only option for merchants who want to solve real business problems with mobile technology.
In what is a very noisy and crowded global market for mobile business solutions, we will work to differentiate ZNAP by de-positioning rival solutions that are too limited in scope and showcase the company's success in markets around the world. Ultimately, GlobalCom will help ZNAP to demonstrate how merchants can make mobile pay.
How do you ensure the company gets the right coverage in the press?
We know the industry inside out and thus we know the core issues and, therefore, what content the market needs. That same content that gets the right coverage is also responsible for getting the right engagement at events, for driving social media, direct sales, marketing collateral, etc.
It really all starts with great content, and great content starts with knowledge of the industry.
Which areas of the press do you communicate with the most (i.e. trade, regional, national, consumer) and which media outlets or journalists do you find you work with the most often?
Trade media and the business media by far. The trade media are overlooked by agency and in-house people, but based upon all the statistics I've seen on what drives purchase behaviour in telecoms, cleantech and business technology, trade media is a lot more effective than national media, lifestyle media, regional media, etc.
In terms of media I'm still very much a mobile and tech kind of guy, so Light Reading, TechCrunch, Telecoms.com, WJSE, etc. are all favourites.
What are your three tips/rules to building and maintaining strong relationships with journalists?
1. Have the politeness to read their publication. There's nothing worse you can possibly do then call up a journalist and not know what they write about and what stance they take on particular issues.
2. Offer exclusives wherever you possibly can.
3. These are generally good people doing a stressful job for pretty poor reward and therefore one of the best things you can do is spend time with them drinking vast quantities of alcohol.
Is there anything else that you'd like to tell us about your career background?
I know I'm a weirdo. I know that spending 13 years at the same company is a strange thing to do. However I would like to point out that there are some benefits. The main one being you get the opportunity to be part of the succession plan and that can be extremely beneficial to you.
Name three guests you'd invite to a dinner party and why.
I'd invite Dave Grohl, just on the basis that he is the coolest person in the world.
I'd also invite my mother and my wife and then cancel on them at the last minute. So basically I'd have a date with Dave Grohl.
What is the best piece of business advice you've ever been given?
Well, there are two.
One from Kevin Moloney of Bournemouth University: 'Think in questions, my boy. It sharpens the mind' and, to be fair, he's right.
And one from Neil Backwith, a tremendous friend of CCgroup and the first European CEO of Porter Novelli, which roughly goes along the lines of 'never ask someone to do something you would not be prepared to do yourself'.
Richard Fogg can be found tweeting @TelcoGeek.