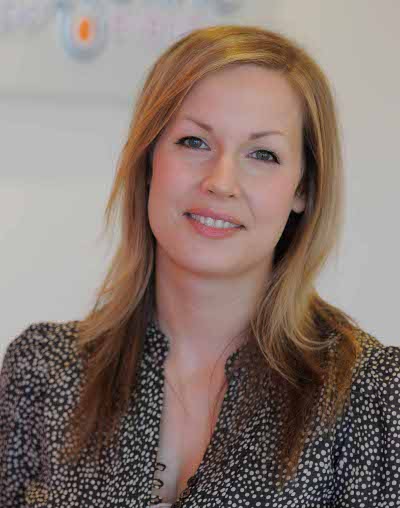 Sam Gregory joined Manchester-based agency Tangerine PR earlier this year. Responsible for the B2B division, she explains how the side has grown, team strategies, and why Ernst & Young would be an ideal client to work for.
About the agency
What industry sectors does the B2B team cover and what role does the division play in the agency as a whole?
Tangerine is made up of three teams; consumer, B2B and digital, aka social media marketing specialist Juice.
Tangerine has enjoyed fantastic growth across the board in its ten year history, but in recent years the B2B side of the business has shown real potential. Seeing the opportunity to build on that momentum, group MD Sandy Lindsay took the decision two years ago to form a dedicated specialist team and I joined the agency earlier this year.
In the last 12 months momentum has gathered real pace and the team has seen major growth, both in terms of client and talent acquisition and really earned its position as a major B2B PR player, so it's an incredibly exciting time for the agency.
In terms of our expertise we are proud to be generalist, but the team has first-rate experience working with market-leaders in sectors like professional services, energy/fuels, building and construction, engineering, industrial, social housing, food and drink, educational technology, procurement, automation and waste management.
What is special about the team's approach to PR?
Tangerine's B2B team specialises in communicating a brand's positioning and values in a way that brings them to life and makes them relevant and engaging for diverse audiences. Our results-based campaigns build brand credibility, loyalty and trust for our clients and ultimately influence the perceptions, opinions and purchasing behaviour of target groups.
And the reason our campaigns are so successful in achieving those things is our strategic process-driven approach. It's been proven time and again and the formula never fails because we invest time in developing brand and market insights to inform a solid strategy.
From here we create neutral tactical plans that are intrinsically linked to business and wider marketing objectives, cognisant of influencing factors, such as the market and the economy, and tailored to the needs of meticulously segmented target groups.
By taking this strategic approach and combining hard-working proven techniques with high-impact creative ideas, we can achieve real cut-through and brand engagement for our clients, even in the noisiest of marketplaces.
How do you ensure your clients get the right coverage in the press?
Because we have such an in-depth insights gathering process and a strategic approach to developing campaigns, we spend a lot of time mapping-out audiences, segmenting messages and themes, and developing channel plans that are tailored to target audiences so we're well placed to make the most of them.
When it comes to the press office function, we make sure that all pro-active activity stays true to the overall strategy and brings reactive opportunities to our clients' strategies where possible. With feature opportunities, it's about setting the agenda and coming up with engaging and interesting content that grabs the attention of editors and readers, and gives the client a platform for thought leadership on a key issue that they want to own.
Over and above the day-to-day, we develop creative, high-impact initiatives to provide more opportunities to gain great quality coverage on the issues that matter for a client and/or their target audiences. It is these projects that often make the difference between a good campaign and a great one.
The other side of the coin is, of course, crisis comms; one of Tangerine's specialisms. Our crisis comms team has worked with some of the UK's biggest brands to develop robust crisis comms procedures and handle all manner of issues, from the minor to the major.
About clients
Can you list some of your most well-known, or respected B2B clients?
Mars Drinks
DWF
Dulux Trade
Tell us about one of your clients you are working with at the moment. What campaign do you have planned?
We have recently started working with DWF, which is one of the fastest growing law firms in the UK and offers a full range of services to businesses and private clients. The firm employs 1,300 people across the country specialising in corporate, finance and restructuring, litigation, real estate, people, insurance and private client law.
It's an incredibly forward-thinking company with a truly dynamic culture that is really breaking the mould in terms of the traditional perception of the legal sector. We're working with them to establish this fresh proposition and raise awareness of the firm's specialist expertise across key sectors, including education, energy and infrastructure, food, health, public sector, recruitment, retail, technology and outsourcing, and transport and logistics. It's really exciting stuff.
Is there a potential client you'd love to work for?
There are just so many B2B brands that I would love to work for, so it's very difficult to narrow it down. Saint Gobain would be one, because I've worked with building and construction brands for over ten years and it's a group I've always been interested in. As an agency, we're becoming really strong in professional services, so it would be great to work with someone like Ernst & Young.
But whatever the brand, it's just great to work with forward-thinking people that want to take a creative approach to B2B PR that integrates off and online and engages influencers and decision makers in much more interesting and meaningful ways.
Which campaign are you most proud of?
I've been lucky enough to work with some really exciting brands on many fantastic campaigns, but one that really stands out was the launch of the Kingspan Lighthouse at the BRE's Innovation Park. The Lighthouse was a truly revolutionary concept that took house design to a completely new level of sustainability.
We developed a great launch campaign that caused a huge stir in the industry and put housebuilding and design at the heart of the mainstream news agenda. The result was fantastic. We secured widespread national press and broadcast media coverage, including Rory Cellan Jones broadcasting live on the Today Programme from the house on the day it was launched.
About journalists
How do you build and maintain strong relationships with journalists?
We take special interest in building strong relationships with the media; they are incredibly important for us and our clients. We want to secure the best positions in the media and make sure that our clients are the first port of call when it comes to providing comment on key issues, so journalists and editors are always a key target audience for us.
On-going meet-the-media programmes are obviously very important, but to sustain really good relationships it is absolutely essential to supply journalists with well written copy, on time, that is genuinely interesting and newsworthy and relevant to the style of publication and readership. And the biggest no-no of all is calling journalists on press day. It's a sure-fire way of burning bridges.
It's just about knowing the media you are dealing with and understanding their wants and needs. If we can do that, then ultimately, the relationship between PRs and journalists should be a harmonious one.
About you
How did you get into PR?
Through a friend of a friend. An opportunity came up at GMM&ICA (as it was then) and I grabbed it with both hands and I've not looked back since.
How useful do you find social media?
Personally, incredibly useful. Twitter and LinkedIn are invaluable for keeping up to date with news, mainstream and industry related, and they are just a really easy way to keep in touch with people I know and build up networks. Blogs are great, too, for getting a spread of opinion on different issues and topics.
For clients it can be a really powerful comms channel, although many B2B brands are still getting to grips with how they can make it work for them. The key is to understand what you want to get out of it and don't be too ambitious; start with something manageable and build from there.
Juice, our social media team, has developed a strategic approach that guides our clients through every step, from research to strategic planning, through to training, implementation and measurement, and we've achieved some really great results.
But even if brands aren't proactively using social media, at the very least, they absolutely must be monitoring it to see how the brand is being portrayed and talked about online. If you're not managing your brand, then somebody else is.
What is the best bit of business advice you've ever been given?
Don't be too conservative and don't be afraid to take calculated risks.
[lnk|http://www.tangerinepr.com/|_blank|Tangerine PR]
[img|jpg|Sam Gregory, MD]