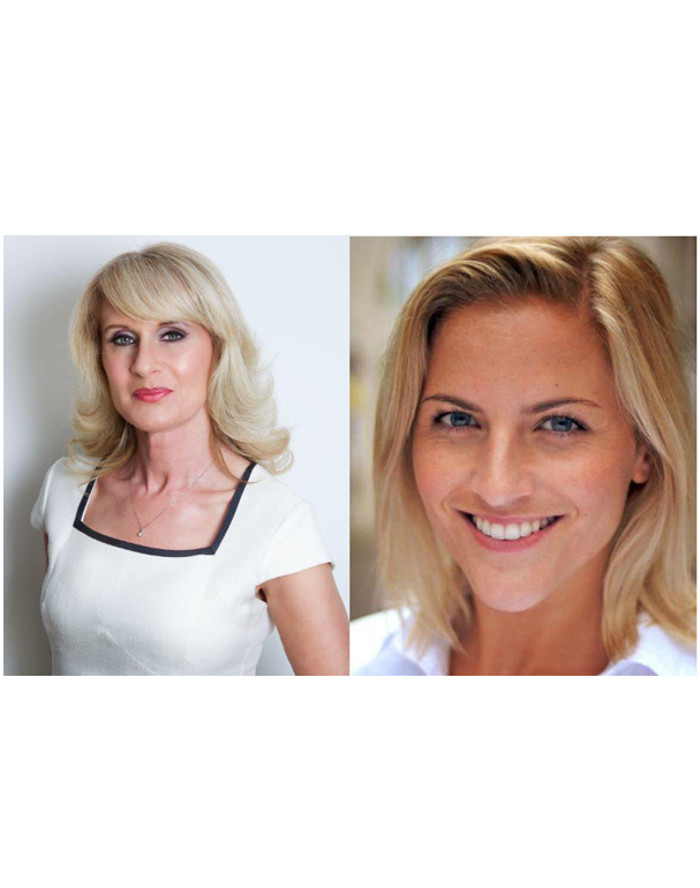 Pictured (Left to right): Teresa Quinlan, MD of Love PR and Ali Currey, freelance account executive and actress.
Thanks for taking time out to chat with us, Teresa; we know you've been really busy over the past few weeks. Can you tell us what you've been working on?
Love PR and Communications works with a range of clients across the board, mainly lifestyle and consumer brands. We also represent some celebrity clients as an agent, including Sean Wilson – former ITV 'Coronation Street' actor (Martin Platt) who has now established himself as an artisan cheese maker, foodie and author/presenter of Channel 5's 'The Great Northern Cookbook'.
Love PR and Communications has a very diverse client base, including brands, businesses, celebrities and sports personalities. How do you keep on top of it all?
Yes, it's quite a spread; however we are a well-organised team. Natalie Clarke directs campaigns for our PR clients and Ali Currey handles celebrity bookings and helps to recruit members and organise the Fast Growth Entrepreneurs Club. We also have Fiona Todd who supports all clients across the board.
Tell us more about the Fast Growth Entrepreneurs Club – how did that come about?
Lily & Piper's Melissa Gilmour founded the Fast Growth Entrepreneurs Club in 2012. I have always been a firm believer in face-to-face networking and supported the Club from the outset. Through the Club I made some great business contacts, and as Melissa and I have known each other for many years, my team at Love PR helped with some of the organisation. The Fast Growth Entrepreneurs Club runs a series of intimate events (drinks receptions and breakfast meetings) for up to 40 invited guests. The Club provides the opportunity for leaders of growth businesses to exchange ideas and provide mutual support and inspiration to one another. Our Membership has grown considerably over the last couple of years, and towards the end of last year, Melissa asked me to join forces with her. With the combined resources of our two organisations working together, we've taken the club to a new level. Santander Breakthrough are lead sponsors for 2014. We are currently in talks with a partner to set up Fast Growth Entrepreneurs Club in Berlin, and also have interest in New York.
Prior to your career in PR, you worked in the recruitment industry. How was the transition? Are there similarities between the two industries?
I built a sales team for the contracts division of an international IT recruitment firm. I have always been passionate on service delivery and exceeding client expectation. I've always been a good multi-tasker, and focused on excellent customer service and getting a good job done. I believe these are the key transferable skills.
You've had over ten years of experience in media relations and successfully executed over 100 campaigns. Is there a campaign that's particularly memorable to you?
Over the last ten years, the choice of media has evolved hugely with a lot more campaigns flourishing online. One particularly successful and memorable campaign in terms of reach was for an addiction treatment centre in Thailand. We managed to secure over 155 pieces of press over a four-month period with a total global audience reach of over 411 million! However, I find it is always rewarding to see your client's name in the media, be it print, online or broadcast.
Has the way that you communicate with journalists changed since social media?
Yes, I've always believed it is very important to build good, strong relationships with trusted contacts, and I encourage everyone in my team to develop relationships with journalists. It's even easier these days to monitor trends and connect with journalists, as long as you remain aware of their particular areas of interests. Everything can happen so much more quickly.
What would your advice be to any business-minded PR who's considering branching out and starting up their own media relations company?
In the current economical climate, it can be very tough to start your own business, and there are many hidden costs that somebody working in a PR agency may not be aware of as an employee. For example, subscriptions to newswires and software services. As long as you have worked on developing a business plan and a well thought out cash flow, if you have the determination, will to succeed and are prepared to work very hard then, I would say, go for it! However, be prepared to take the rough with the smooth.
Hi Ali, you joined Love PR & Communications in December last year, but you're also an actress. How do you manage your time between the two?
I'm freelance, so I usually book my work for the next week on a Thursday. I usually have a rough idea of the jobs the following week and where I'll be. Of course, if auditions come in and work gets booked, then everything changes but being freelance means I'm flexible. I can work from home and also on weekends, although I try and make sure I have one day off a week!
What made you decide to become a PR Account Executive and why did you choose to join Love PR?
A good friend of mine was leaving Love PR to move to America. I met with Teresa and she offered me the job, with the flexibility I needed to manage my acting career.
Has being an actress helped in your PR role and have you been able to apply any of your acting skills to the job?
Yes, it has. I was my own agent for a year and a half before I decided to get my own acting agent. I have great negotiating, sales and communications skills, having to always deal with finding my own work and contracts, etc. I also have a Business degree from The University of Exeter, so combining all these skills has helped me at Love PR; working as an agent for celebrities, organising events and building profiles of brands, people and companies.
You've been working on the Fast Growth Entrepreneurs Club. Has it been challenging for someone relatively new to the PR industry?
I do have a business background having previously worked in finance in the City, so I have a good basic idea of what events like this should be like for our members. Organising events is about communication; with sponsors, members, venues, right down to our goody bags. Teresa has been a great support and I have learned a lot from her in a short period of time!
What other campaigns are you currently working on?
I work with Sean Wilson, ex-Corrie star of 21 years turned Chef. I book personal appearances to UK food festivals for cooking demos. I also work with Cosmetic Surgery Partners, Diabetes.co.uk and Centtrip as well as a new movie based on Tony Drury's book 'Megan's Game'.
What would you say was your biggest challenge at the moment?
There are so many portals for getting your events/press releases out there and there are so many people promoting the newest website, etc., so it's been challenging trying them all out! I'm always on the look out for interesting speakers for Fast Growth Entrepreneurs Club. They must have a good story, a rapidly growing business and enthusiasm to speak in front of our members.
Love PR and Communications can be found tweeting @loveprlondon.