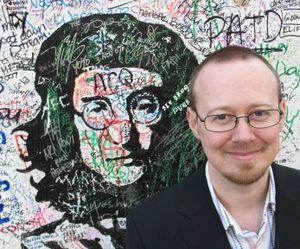 We take a closer look at some of the journalists from our Freelance Journalist Profiles – this week, Sean McManus.
What does Sean write about? A wide range of business and technology topics including Internet of Things, educational technology, coding and software development, website design, consumer technology, photography, customer service, usability and music.
Who for?  Sean is the author of a number of books including Raspberry Pi For Dummies and Scratch Programming in Easy Steps, and a novel, Earworm. He's also worked as a journalist contributing features for titles such as The MagPi, Start and Run Your Business and Personal Computer World.
Where can I see his work? Try his Amazon author page for books and his own blog news.sean.co.uk for journalism.
We found out a bit more from Sean himself:
What's the last magazine/newspaper you bought? Classic Pop. I love to listen to the synth bands of the 80s, and this magazine helps me discover those I missed first time around.
Tell us a favourite word (please keep it fairly clean…)  "Approved". It's always a joy when commercial projects get client sign-off!
If we ever get to buy you a drink, what would it be? Thank you! Mine's a camomile tea.
I'd like to learn a bit more about Sean's books:
Editors: find out more and contact him for commissions via his listing on Freelance Journalist Profiles: Sean McManus.
PRs: if you subscribe to the Media Contacts Database, find out more here. If not, you can catch up with him on Twitter @musicandwords.
If you're a freelance journalist yourself, take advantage of our Freelance Journalist Profiles (like everything ResponseSource does for journalists, it's free) and we might pick your profile for a future Freelance Journalist of the Week spot.