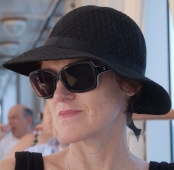 We take a closer look at some of the journalists from our Freelance Journalist Profiles – this week, Vivien Devlin.
What does Vivien write about? Travel with both a Scottish and an international outlook, including cultural, culinary, wildlife adventures and city lifestyle travel features. Vivien also covers luxury train journeys and cruises, and has particular knowledge of South America, the Falkland Islands, French Polynesia, the Caribbean, Seychelles, Thailand, Vietnam and Singapore (as well as Scotland!).
Who for? Clients include Scotland magazine, ArtMag, Luxury Scotland, various cruise media, and her own websites Great Boat Journeys and Smart Leisure Guide.
Where can I see her work? Read her features on travel here and here or art here and here.
We found out a bit more from Vivien herself:

What's the last magazine/newspaper you bought? Sunday Times.
Tell us a favourite word (please keep it fairly clean…) Serendipity – the magical fate which guides us through life and love.
If we ever get to buy you a drink, what would it be? Ice cold Gin Martini, straight up with a twist, shaken not stirred.
If you'd like to explore more of Vivien's travel journalism, contact her for commissions or invite her on a press trip:
Editors: find out more and contact her for commissions via her listing on Freelance Journalist Profiles: Vivien Devlin
PRs: if you subscribe to the Media Contacts Database, find out more here. If not, you can catch up with her on Facebook https://www.facebook.com/vivien.devlin
If you're a freelance journalist yourself, take advantage of our Freelance Journalist Profiles (like everything ResponseSource does for journalists, it's free) and we might pick your profile for a future Freelance Journalist of the Week spot.