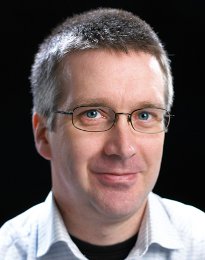 About your journalism
What do you write about?
My main gig is PC Pro's Real World Mobile and Wireless column, where I cover pretty much everything to do with 'out of the office' computing. Obviously, the main focus is smartphones and tablets given current market interests, but I try to be creative with the scope of the column. I'm told it's the UK's most read specialist smartphone column, which is nice!
Besides the Real World column I also write occasional reviews and features, again often around the mobile theme, but sometimes around web development and online marketing, as that's another of my specialist subjects. The reason for the latter is that journalism isn't a full time job – I also own and run one of the UK's longest surviving web agencies (CST Group), and have a small involvement with an online survey company (Demographix), so there's a fair amount of hat juggling going on all the time!
Where are we likely to see your work?
Over the years I've written for many tech magazines, and even managed to get a few articles into the broadsheets, but these days you're most likely to see my monthly column in PC Pro. It's what I enjoy doing the most.
What's the most memorable work you've done?
One of the first things I wrote during phase two of my journalism career (phase one had been writing for Amiga magazines, many years earlier) was a column for an online e-zine called Where It's At. A couple of weeks ago I was browsing the Wayback Machine and found an article I'd written back in 1997 about a fictional mad aunt, Stalin, and Photoshop. My writing has improved immeasurably since then, but I still love the piece, and reckon that a decade and a half later it remains relevant – do let me know if you agree.
What interview or feature would you love the chance to do?
I'd love to have a chatty, free reign column. Something akin to the guest columnists in the Sunday papers. That way I could have fun with stuff like 'Scissors and Stalin' on a regular basis. I find the constraints of a themed column a bit limiting at times.
About you and PRs
Where do you source ideas for articles?
Anywhere and everywhere.
How can PRs be useful to you?
I struggle with PRs because they (and their clients) often struggle with the needs of a Real World column. I need to get kit in and play with it for months, so that I can really get to know the ins and outs. And only then do I write about it. PRs are more used to a world where they send a review kit to a journalist, and expect to get it back the following week. When I ask to keep things for six months, it breaks their system. Having said that, some of them do get it, and realise the benefits that working closely with a Real World column can bring them. They'll send me their latest products (smartphones, tablets, routers, etc.) as soon as they are released, sometimes they'll also send me (heavily NDAed) pre-production samples so that I'm up to speed, and so that I can give feedback. That's what really helps me, and in turn it helps the PRs and their clients to get valuable column inches in an influential column.
How and when do you like them to get in touch?
Email (pcpro@ockenden.com) is always good as a first point of contact. And then maybe a nag on Twitter or Facebook if I forget to follow up. Phone can often be inconvenient as I spend a lot of time in meetings.
Do you find press conferences, trips, parties and other events useful or an interruption?
Who can resist the occasional jolly! Although they aren't what they used to be – I've noticed a recent-ish trend for after-work events in central London, which is great for those who live and/or work in London, but not so good for the rest of us out in the sticks.
If you could make one change to the way PRs deal with you, what would it be?
Can I force them to actually read the ResponseSource requests I make before hitting the reply button? Last week I sent a very detailed one, with "what I need" and "what I don't need" lists. Of the responses I got, over half were offering stuff from the "don't need" list. I know PRs are busy people, but by sending through stuff I've explicitly said I don't need they are wasting their own time, as well as mine.
About you
How would you pay the bills if you weren't a journalist?
Luckily I already have other sources of income besides journalism; I have expensive tastes and couldn't afford to live on a journalist's salary alone.
If we gave you £1000, how would you spend it?
I'd fill my car with petrol.
Do you tweet? Why, why not?
I do indeed tweet (@PaulOckenden), but mostly complete rubbish.
What books are on your bedside table, magazines in your bag, or blogs on your screen?
On the coffee table you'll find National Geographic, New Scientist, and maybe something by Dawkins or Hitchens. On the bedside table there's a Kindle with an eclectic selection of books, and a BlackBerry which never stops blinking. And in the upstairs loo there's the latest copy of The Week – it's perfect 'short-burst' reading material.