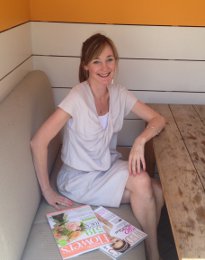 About your publication
Who reads it and how many of them are there?
We sell over 40,000 issues of Wedding on the newsstands bi-monthly, and our core readership is ABC1 brides to be (as well as their maids, grooms and mothers!). We have recently moved from third to second in the marketplace and outsell our nearest competition by 7,000 each issue. We also have sister title Wedding Flowers, which is a more specific add-on title for brides to be, and also very popular in the flowers industry, both in Britain and worldwide.
What subjects do you cover?
From venues and dresses to gift lists and honeymoons, we cover all aspects that are relevant to a bride planning her special day. We see ourselves as a sort of support network to them, offering advice on relationships, stress management and finances. Our website has more than 35,000 subscribers weekly.
What stories are you most interested in covering?
We think of ourselves as a fashion women's glossy with the emphasis always being weddings, so our mix is very much the same as you see in most high-end monthlies. Think fashion, beauty, travel, news, reviews and interviews. Every issue, we have a 'special' and a recent one was shopping (a subject that's very close to all of our hearts in here!). We're including a 'Save With Style' special feature, as well as a pull-out 32 page separate magazine, full of 500 great buys for weddings, with everything from shoes to flowers included. Next issue we're focusing on reader's real weddings. As well as growing the section within the magazine, we will have a 32 page pull-out glossy 'Real Weddings' special.
Do you produce a features list?
We have a working features list but don't offer it out for wider consumption.
About you and freelance journalists
Do you pay for contributions from freelance journalists?
Yes, we have a budget for photography, illustrations and writers, although most of our features are generated by our in-house editorial team.
About PRs
Do you work closely with PRs or do you keep them at arm's length?
We work closely with PRs, both at Wedding and Wedding Flowers. So much of the wedding industry is fragmented and they're a great resource to us when they can bring smaller suppliers to our attention, as well as highlight wedding-related launches, events and news.
About you
Describe a typical day at work…
A typical day for me starts when I drive across beautiful Constable country (I've just moved into a sweet cottage in the heart of Dedham Vale) to our new offices in Colchester. Every day is a little bit different, depending on where we are in our production schedule, but if I'm office-based I'll be checking layouts and proofing, as well as meeting with the various teams on the magazine to discuss where we are with shoots, real weddings, supplements and features. At lunch, I catch up with freelancers or PRs and at least once a week I'll spend a day in London with the fashion or style team meeting clients, attending shows and events and overseeing shoots.
Where have you worked previously, and how did you end up in your current position?
I was editor of Irish Tatler before taking a role as fashion editor of the Sunday Tribune newspaper. I then moved into bridal journalism when I was offered the editorship of Confetti, and worked for a number of years doing both fashion and wedding editing. Through my bridal and fashion styling experience I've also worked in radio, TV and online environments, and have contributed to many newspaper and magazines including The Irish Times, The Sunday Times, The Irish Independent, The Sunday Business Post and The Examiner as well as Image, Food and Wine magazine and Cara magazine. As a family, we recently moved over to the UK and when this role came up at Wedding and Wedding Flowers, I jumped at the chance to edit these beautiful magazines.
Do you tweet?
I do and am @WeddingCiara .