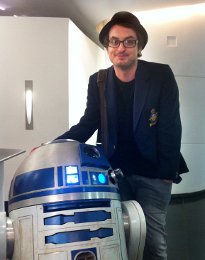 About the publication
Who reads GT and how many of them are there?
People. People who need people. Presumably – and hopefully – gay men. And bi men. And men who have sex with men. And women that like hot men. Who likes a label these days?
Seriously though, we're available all around the world (both digitally and in print) and have an even bigger reach now thanks to our Facebook (over 262,000 fans) and Twitter (64,000 followers).
What subjects do you cover? What stories are you most interested in covering?
We're a lifestyle magazine that also puts a different spin on current affairs, news and real life. So there's a bit of everything in GT – celebrity, fashion, travel, health, food, tech… That's a lot to think about as you're drifting off to sleep at night and suddenly remember a feature on cats.
Everything is interesting in some way or another, but obviously you immediately have our attention if there's a gay angle.
What makes you different from the other outlets in your sector?
We've been around FOREVER. Gay Times is nearly 40, you know. Thankfully, I haven't been around for all of those years, though many people might suspect it from looking at me. We started way back in 1974 as Him Magazine, then going through a stint as Gay News before finally settling on Gay Times in 1984. Technically, we're the longest-running gay magazine in the world. Technically. If you want to discuss the finer points of this we're going to have to do it over a glass of wine.
How do you decide the content?
The same way that French and Saunders do in their Womanly World sketch. I jest, of course. We have a basic framework for the magazine but we're not held back by limiting formats that need to be filled each month. So we're pretty free to decide what we like. Obviously there are timing factors, such as a change in legislation, the release of an album or a scheduling date of a TV show which sometimes dictate the content.
Do you plan any features far in advance?
Yes, I'm always planning features, much to the annoyance of my partner. So I'm currently working on features up to January 2013.
Do you think there is enough LGBT-focused media out there at the moment?
That's tricky, as if I wanted more then I could potentially be doing myself out of a job! Obviously what's out there is, for the most part, great but because of what I do I'm never going to tire of reading LGBT-focused media. Our company just launched Meta magazine, a digital publication by trans people for trans people, which is brilliant.
What kind of features/interviews do you have coming up in the next few months that you're excited about?
Well, if I'm going to tell you a secret you have to share one too… To paraphrase Belinda Carlisle, my lips are sealed. But yes, there are loads of things coming up that I'm ridiculously excited about featuring in GT; it's one of the great things about doing this job. I still get excited.
About you and freelance journalists
Do you pay for contributions from freelance journalists?
Yes we do pay for contributions from freelance journalists, but don't expect to retire on it.
Do you like freelance journalists to get in touch with you directly to pitch ideas? And if so, how?
I love freelance journalists getting in contact to pitch ideas, it makes it much easier for me. Email only though please because by the time I've got off the phone and something shiny catches my eye I'll have forgotten.
Name the three most important attributes that make a freelance journalist stand out for you and would make you use them again?
Reliable, reliable, reliable! One of the most annoying things is people letting you down last minute, or taking three months to write a fairly simple feature. It's safe to say I won't be rushing back to commission you again.
If you can, tell us about the best approach you've seen from a freelance…and the worst…
Now you're testing my memory – my favourite approach would probably be the freelancer who got a ridiculously short 'brief' from me on an idea that I had and was considering doing something with. Within about a day he'd come back with case studies and the bones of a finished piece, before I'd even decided I really wanted to do it! Needless to say, we did and now I use that particular freelancer as much as I possibly can.
The worst ones are the people who don't bother to even see who works on our magazine, what we've written about or, indeed, even to change the name of the recipient and magazine in the pitching email. Delete!
About PRs
Do you work closely with PRs or do you keep them at arm's length?
I love working closely with PRs; it's a hoot. They're absolutely essential to what I do; why on earth would I want to keep them at arm's length?
If you could make one change to the way PRs deal with you, what would it be?
Please, please, PLEASE don't phone me up after you've sent me a press release to then read me the press release. I can read, funnily enough.
Oh, and just because a picture looks big on the screen, it doesn't always mean it's big enough for print. I say this with love, of course, and not screaming in frustration or anything.
How should a PR approach you about their client?
Email please, a press release and (small) picture is always lovely. Giant high resolution images that I haven't asked for, or huge collections of press cuttings means I turn into She-Hulk.
What information/input from PRs is most useful to you?
The information and input I get from PRs is normally always useful, but one thing that many people overlook is the gay angle… We're Gay Times, so please flag up any times that may be gay. In fact, it might be the angle that you've overlooked that would make us jump for joy (possibly with some clapping).
When is the best time for PRs to contact you, and what is your deadline for contributions?
As soon as you humanely and possibly can please! I can keep a secret and not break an embargo if it means I can set something fabulous up. Keeping in mind that we're a long-lead publication, quite often I'll get the press release the day before something happens, by which point it's obviously too late.
We're published every four weeks, so our deadlines move around.
About you
Describe a typical day at work: What are your editorial duties/responsibilities at the outlet (e.g. commissioning, subbing, features, interviewing)?
I do all of these things. I quite often do them in the evening and weekends too. We're not a very big team so I'm very 'hands on'.
What interests you most about your job?
I love my job. I really love being able to do this, so everything interests me to some degree.
If you could interview anyone for the magazine, living or dead, who would it be?
Bette Davis or Divine. GT have interviewed Divine in the past but sadly she's no longer with us. Actually, I'd love to interview Grotbags, so there's a theme here.
Where have you worked previously, and how did you end up in your current position?
I graduated in journalism from Napier University in Edinburgh in 2008 and moved to London to be the features editor for Pink Paper (which is now an online news service). I moved over to Gay Times in 2009 and worked my way up from there.
Do you tweet? Why, why not?
Oh yes indeed. I tweet from my personal account, which is @darren_scott and seems to mainly consist of rants about transport in London. Well, transport and pugs. I also tweet from @gaytimesmag. There's less ranting there, though there may still be pugs.