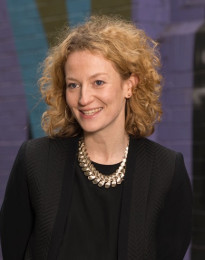 There's been some deep thinking going on at Stir PR since we last spoke to Alicia Mellish, the agency's founder and MD, in 2013. They've even brought in cognitive neuroscientists to help research and deconstruct the very nature of human interactions in digital times. Alicia tells us how understanding neuroscience can give Stir a PR edge. We try and keep up …  
There's a giant neon sign in Stir's office that says, "Think Beyond". Is this just a (very cool) piece of art, or are you making a statement about the agency?
It represents how we approach creative execution as an agency. Yes, we want campaigns to be disruptive, eye catching and make an impact (much like our 3m x 1m pink neon sign!). But creative execution must be grounded in brand (and category) related insight. And if you think of Stir PR as a brand, our brand DNA is Think Beyond. Whilst pretty, the neon sign is an ever-present reminder – there really is no ignoring it! Our recently published report, 'To be Human is to Communicate' is an example of how we think beyond the established demographic consumer groups, to better target our clients' audiences.
So that is the research you recently commissioned into how brand messaging can gain cut-through in the digital era. What did you learn?
I happened to meet Araceli Camargo, a cognitive neuroscientist specialising in perception, attention and memory, and we discussed how an overload of information in the digital era is splitting consumer attention. When it comes to selecting brands to engage with, there is confusion around which to trust. So we wanted to see if we could be more sophisticated in our PR approach, ensuring our clients' messaging gains greater cut-through than its competitors. The study explores digital era behaviours—we weren't interested in what channels consumers are using, but rather why they are used and how people react to information delivered through them.
The research was conducted by the Cognitive Neuroscience Research Lab, THECUBE. Do we really need scientists to tell us about human interaction when many PRs like to think they have an 'intuitive' understanding of people anyway?
There's much debate in the industry around the role of PR in this modern digital age, but we firmly believe that our role hasn't changed – even though the tools and technologies that we use have.
PR focuses on delivering a message to an influencer, one whom our consumer relies on for curated and informed opinion. That influencer could be a print journalist, a 19 year old vlogger who broadcasts to millions from his parents' kitchen, or an anonymous person with 200K followers on Instagram. The one thing that unites them all… they're human. PR has human to human communication at its core. In this respect it could be described as the purist of the marketing disciplines. BUT, what if we were to look consciously at this process, understand its different elements and then apply these micro mechanisms to our communication plans as an industry?
For instance, most of us have an innate ability to walk or run, but that alone doesn't make us Usain Bolt. We would need to break down, understand and maximize every micro element of the process to become an Olympic athlete. Our report has taken this idea and looked at the four key macro elements involved in human communication: empathy, language and narrative, attention and memory.
How do you think the findings can be translated to practically affect brand strategy for agencies?
We've given best practice examples in the report of existing campaigns and we've also amended our approach at Stir to ensure that we consider empathy, language and narrative and attention as key factors within the strategy phase of our campaign planning. The team has even started to go back and understand why some campaigns executed in the past may not have gained the traction we expected by identifying which aspect of the new approach they were lacking in.
Are relationships with press journalists still as important now given the advent of content marketing and social media?
The need to develop relationships with press journalist and influencers across all channels is more important than ever. Consumers are increasingly turning to trusted sources to curate information relevant to them, over listening to brand communication. The era of top down consumerism is dead and those brands that fail to adapt, will not be heard. So PR's role has and will continue to become even more important in the dissemination of business and brand messaging. Key relationship building is what PR does better than any other part of the marketing mix.
What has been your most memorable work for a client?
We've had some great moments over the years. From launching the Jack Daniel's Sinatra Select whiskey at the Savoy with the late Frank Sinatra Jr. performing for guests, to taking over the rooftop at Harvey Nichols with S.Pellegrino this summer, generating huge amounts of press coverage, and being celebrated by the retailer as their most successful activation in 2016.
Do you have any tips for building and maintaining strong relationships with journalists?
The team will tell you that it takes hard graft, time and dedication to build strong relationships with press. There is no secret to it, but it is the life blood of PR. You have to ensure you are working appropriately and relevantly for the journalist. Question whether the story you are delivering will resonate with their readers; do they like to be given a story, or develop one in collaboration? It comes down to the same old thing: know your audience.
Who are your most demanding clients? Feel free to name names!
Ha ha. It's important for agencies to remember that when a client is "demanding" it's a result of their passion for their brand. This passion should be matched by the agency's drive to deliver. Agencies need to acknowledge that their client knows the brand like no other, and clients get the most from an agency when they listen to the counsel of the PR team. When, on the rare occasion, frictions occur between Stir and their client, we always look at what our part might play in that tension.
What future plans do you have for Stir?
Our plan for the future is very simple – we will continue to grow as an agency, attracting the best talent in the PR industry, based on the delivery of great work, for clients that excite and challenge us. As the neon sign so clearly reminds us each day, we will do this purely by Thinking Beyond.
You can find the Stir PR team tweeting @StirPRLondon