Before I was a Journalist: Andre Langlois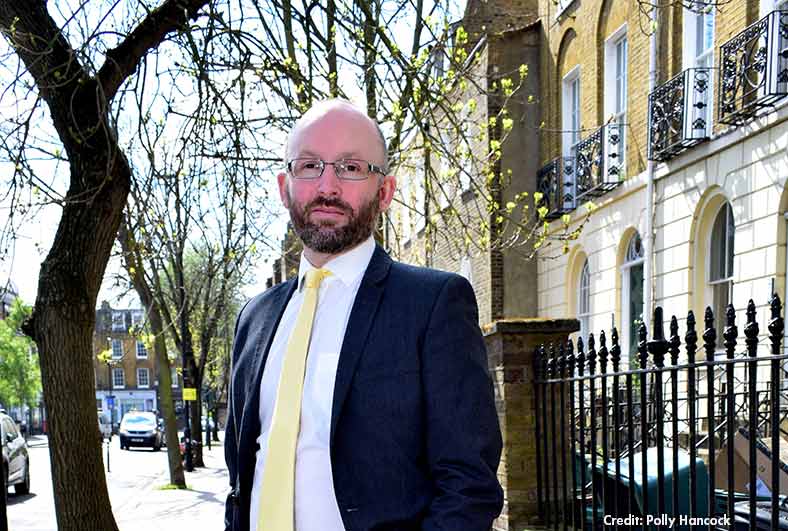 Career paths don't always pan out how we expect them to. You might go to University planning on becoming a teacher, but end up working in web design. Or you might start out in one career and end up pivoting or changing completely to a new field.
While many journalists will have studied journalism at University or completed an NCTJ, some find their way into the profession via other routes or a career change. That's exactly what Andre Langlois did, swapping banking and finance for local journalism. We caught up with him to discuss life before he was a journalist, the skills he has carried over and his new job as editor of LondonWorld.
You previously worked in finance and banking, with roles including credit controller and banking administrator, what prompted the career change into journalism?
Banking and insurance was always just a day job (while I played in bands and dreamt of being a rock star), something I fell into when I was aimless and broke after university. I'm from Guernsey originally and that's where the jobs are over there. Eventually, working in the City, I was so tired of it that I quit without a plan.
It was only afterwards that a friend suggested an NCTJ fast-track course. Journalism hadn't been on my mind but signing up was the best decision I ever made.
I noticed that you went to Lambeth College to study for your NCTJ, what was it like going back to college and studying (having previously achieved an MA in Philosophy)?
I'd recently finished the Philosophy MA part time at King's College London, so I had already spent two years studying as a mature student. I can't speak for everyone, but for me I was still very much a teenager during my first university experience. As an adult I had a far greater appreciation of the experience of studying.
The Lambeth course was a whole different thing again. I enjoyed the intense nature of it and I'm sure most people who have done an NCTJ course will remember the shared experience with other trainee journalists fondly – something that should also be the case in a well functioning newsroom.
What skills from your previous career have you been able to make use of within journalism?
The general life experience of a previous career can only be a good thing but, equally, the energy and experience of someone coming into their first job can be of great value.
But, to answer your question, spreadsheets – I still use spreadsheets for everything.
What was the most difficult part of the career change?
The starting salary for reporters was and remains a huge challenge for those who can afford to do it at all.
You've now been working in the local journalism industry for about ten years, how has the industry changed during that time?
That's a question too big to answer here. I suppose I came in as a reporter and became a news editor during the last gasps of the old-fashioned weekly newspaper newsroom. The huge digital change has been inevitable but has brought with it a drop in standards in some ways, while navigating the new media landscape.
Hindsight is a great thing, but I think we're about to go through a revolution that's greater still – and that the industry is unprepared for AI. While media firms are considering how it can be used, far bigger will be the impact on how people access information in the first place.
You recently started as editor of LondonWorld, how have you found the role so far and what is a typical day like for you?
It has been good. I've long been digitally focussed, but getting away from print deadlines has been good for my mental health. I do miss the joy of a strong front page, though.
My day will be familiar to most newsrooms. I start at about 8-8.30am (well, or often 6.30am in bed), look at the inbox, the stats and what's happening on other sites and social media. We have a news meeting at 9.15am to set priorities for the day. We're a relatively small team so we're very selective about the topics we cover, the stories which will be of interest and of use to our readers.
We're video-focussed, so discussion of video-led pieces is important. And I've fallen in love with TikTok and Reels (yet another part of my mid-40s denial). We've built our TikTok from scratch and we are approaching 10,000 followers.
What advice would you give to anyone looking to make a career change and start in journalism?
The training remains very important, so get on a fast-track course if you possibly can and get as wide a variety of work experience as possible. And when you're in, dive in. It's up to you to make things happen. Journalism gets you through doors and enables you to see behind the curtain in a way no other career can. Make the most of it: put difficult questions to MPs, sit in court for moments of history, and get on the press list for gigs by your favourite bands.
Do you work much with PRs and if so, what's the best way for them to get in touch?
Email is the way to get in touch – and the key thing is clarity. I should know from the subject line when email is about, and unless I know by the end of the first sentence, I'm likely to lose interest. It should be as clear as a news story, in other words. And in that way, flowery language can be reserved for quotes. And I'm liable to be put off by a 'get in touch if you want pictures' line.
Subscribe to the blog
Get weekly updates from the ResponseSource blog
Subscribe