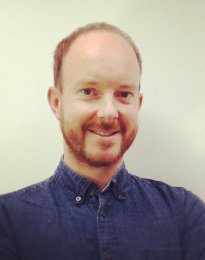 In a glittering ceremony for the cream of the UK's editorial elite last month, The British Society of Magazine Editors bestowed the award for Digital Entertainment & Celebrity editor of 2012 on Digital Spy's David Moynihan. The accolade for his editorship at the website follows stints at Bauer's FHM.com and NME.com at IPC, as well as a multitude of other awards.
We ask David for the ceremony gossip, the pros and cons of online media, and where traditional journalism training can get you (hanging out with the best cast member of 'Friends', if you're really lucky).
About Digital Spy
Congratulations on winning the BSME Award for your work on Digital Spy! Were you tempted to do something crazy when you won this time, such as doing some off-the-cuff press ups like Jack Palance at the Oscars, or sending an activist for Native American rights to pick it up, a la Marlon Brando?
Marlon Brando is something of a hero, but sending someone in my place would have meant I missed the very funny host Stephen Mangan. Had I been unable to attend I would have liked to have sent Marcel the monkey from 'Friends' and 'The Hangover'.
Having previously won in 2008 and 2010, do you have room for another award? Where do you display them?
Marcel the monkey follows me everywhere I go, pushing a wheelbarrow containing the awards.
For those who've never made it to the BSME Awards, could you describe what the ceremony is like?
The ceremony is good fun. A really glamourous night and a chance to catch up with old colleagues and meet new people whose work you admire. It's fun; it always has a great charity element and I think people genuinely enjoy and appreciate seeing our great industry recognised in this way. I always leave inspired by something another brand is doing that I might not have previously been aware of.
In your (award-winning) opinion, what makes Digital Spy the best out there in the digital entertainment and celebrity market? Who are the website's main competitors?
I think that the judges voting us the best in our category recognise what a groundbreaking year we've had. Our traffic and revenues are greater than ever before, our content is stronger and more finely-tuned, we've really worked hard to think originally and go above and beyond what is expected of us. We ran a huge number of news exclusives, delivered first class writing across our features, TV recaps and reviews and got brilliant access to the very best entertainment names.
I don't see any one site as our direct rival, as no one else in the UK does what we do. We're a dedicated and broad entertainment site. Probably, the US's
EW.com
(Entertainment Weekly) comes closest to us, though we bring tech to the mix too – something that we intend to expand in 2013.
Entertainment and tech are now fused as people want movies, games, TV and music, not just in their homes but on the move and socially connected, using mobiles, tablets, apps and handheld devices. TV viewers 'two-screen' and are likely to be on Twitter or Facebook while watching a stunning HD show whenever they choose, all thanks to digital technology.
My job is to make sure that we are being the best that we can be. Our strengths include being a very fast, reliable, in-depth, expert and celebratory entertainment site staffed by an incredible, passionate team who live and breathe their sections, be that Movies, TV, Music, Showbiz, Games or Tech.
And I think that entertainment fans and the entertainment industry really get us – we've doubled our number of monthly unique visitors over the past two years. November 2012 saw an immense 16.5 million unique visitors come to us. One third of our users visit us 50 times or more per month. Our Games section alone now attracts over one million unique visitors per month and won best mainstream website coverage at the
Games Media Awards
. Our TV editor won Digital Editorial Individual of the Year at the AOPs.
The Times
listed us as one of the top 100 in entertainment to follow on Twitter.
It's an incredibly exciting time to be at Digital Spy, with some big new reveals coming early next year.
What are the advantages of publishing online as opposed to the print magazine format? Are there any disadvantages?
There are many advantages: speed to publish and agility to react, interactivity with users, live and in-depth analytics. We're free, we're super-accessible and sharable. In many ways there are no limits to creativity or innovation, we're not bound by the strictures of a paper page.
Disadvantages exist too, however. The web is incredibly competitive and fragmented, digital advertising is still undergoing many changes as mobile explodes and giants like Facebook and Google have such dominance. Also, I still think within the PR industry that, despite often having greater reach and capabilities, online can sometimes be secondary to offline in terms of access to products or talent, which I think is outdated and short-sighted.
About Digital Spy and freelance journalists
Does Digital Spy pay for contributions from freelance journalists? Should freelancers get in touch directly to pitch ideas? If so, how?
Yes, we do. We are always open to new contributors. We can be contacted at
editors@digitalspy.co.uk
. The more info the better – though please be succinct (a great way to showcase your writing skills from the off!).
About PRs
What types of PR agencies do you work with? Of all the press releases you receive on a daily basis, what percentage of them make it to publication?
We work with numerous PR agencies – from the very largest to niche set-ups. The breadth of our content means that we receive an incredibly high level of press releases.
It's impossible to say what percentage make it to publication, but as a general rule we are interested in the biggest and the best. By which I mean we are keen to cover the stuff that has significant audience value, but also those unknown gems where we feel there is something 'must see' for our readers.
I'm a big believer in meeting face to face with PRs when I think that there is something special we can do together or a real opportunity for long-term collaboration.
Do you find that your idea of what makes a story and a PR's tends to differ? How?
PRs obviously have a job to do for a client whereas our objective is to serve our audience, so there will always be times when we don't see eye to eye. It's good when a PR trusts us and we get to do something innovative or out of the ordinary to create entertaining and original content that really stands out and benefits both of us.
About you
How important do you think 'traditional' journalism training (such as the NCTJ and other qualifications) is when looking to work in media these days? What else comes into play?
It varies according to the individual, I think. We've had staff or those doing work experience with no training who are fantastic and loaded with ambition and natural talent. Then we've had highly qualified journalism students who haven't impressed at all. And vice versa, of course.
I certainly think that the new journalism students coming through often have a very good attitude to, and understanding of, working cross-platform and using a wide variety of skills, from writing to video production, social media, analytics, web publishing and so forth. When students tell me they want to write for Digital Spy, I always ask for their blog URL and am disappointed if they don't have one. If they are that keen to do it for a living, I want to see evidence that they are passionate about it and thrive on writing and creating.
Describe a typical day at work at Digital Spy: What are your editorial duties/responsibilities at the outlet? What do you get up to?
It's a very varied role. I lead the editorial team to wrestle all of the ideas, content and opportunities into a cohesive and compelling editorial offering: commissioning, developing, editing, etc. I love creating content and interviewing but certainly don't get the time to do as much as I'd like to. I work closely with the commercial team to look at opportunities or present to agencies. Analytics is very much at the heart of what we do, live analytics more than ever. Then there's new product development and ensuring we have the right business strategy in a constantly evolving environment. And meeting with PRs, music labels, film, TV and tech companies to look at their forthcoming releases and how we can work together. Then heading out in the evening to screenings, gigs and product launches.
What do you love most about your job?
There's still a feeling within online that anything is possible – you just need a great idea, a dash of luck and smart working practices. I love the creative side of it, contributing to something successful that we are very proud of and being lucky enough to have the very best of the entertainment world at our fingertips. We're all like excited school kids when we get our hands on the latest 'Homeland' preview disc, 'Skyfall', festival tickets or some stunning Apple product.
Do you tweet?
Of all the people you've written about/interviewed while working in journalism, who have been your favourites and why?
Interviewing 'The Green Mile' actor Michael Clarke Duncan always sticks with me as he was a man-giant and a great guy. It was very sad when he died this year. If I could interview anyone I think it'd be Tom Hanks. He's the biggest movie star on the planet in many ways but always comes across as utterly down to earth and a very smart guy. Then we'd go for beers and pizza.
David Moynihan can be found tweeting @DavidMoynihan and @digitalspy
–
please note that we can't guarantee messages for Marcel the monkey can be passed on via these channels.