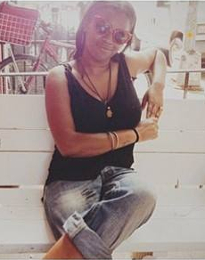 You've recently been appointed to the role of managing editor at i-D, could you tell us a bit about the role?
It's not a role every magazine has, so it's an interesting one. Now that i-D is transitioning from not only a magazine but to a global media brand, a huge side of my role is managing the international expansion and new offices in Poland, United States, Mexico, Italy and The Netherlands. Part of it is translating what is quintessentially a London brand into different territories. There's also the second half of my job…We've now got different sectors of the magazine that we never had before – We have a dedicated video section, we have a strategy team… It's making sure that all those different sections work together, you know. That strategy works with design, design works with editorial, and editorial works with fashion, etc.
I do traditional editorial duties as well, working with Holly Shackleton (i-D editor-in-chief) guiding the magazine in that sense.
What part of the role are you enjoying the most?
I think I'm quite innately creative, but then I'm also hilariously a bit of a control freak…
I like the way the role kind of lends itself well to both of those sides. I can creatively input into a magazine that I have a tremendous amount of love and respect for. I also get to see it come to life and be involved in every step. Overseeing each step is something rare about being a managing editor.
What attracted you join i-D?
Oh I adored it as a kid! i-D was definitely one of the reasons I got into fashion, it was the only thing on the newsstands quite like it. It was very inclusive but also made you feel part of something completely different. For me, it was the first time finding and knowing something was out there that was completely in tune with my tastes. It's very rare that these positions come up, it's very much who you know… So obviously when it did I just knew I wanted to be a part of it and the exciting things that we have going on.
You were previously managing editor at Industrie Magazine, how does this role compare? Is it much different working for i-D?
Yeah! I think so. Industrie is an incredible publication – it's very niche, and it's for someone who's super into fashion. I always called Industrie almost like a cult thing. It was read by not just fans of fashion, but people who work in fashion as well. Whereas i-D is for everyone, for everyone young and is much more of a consumer publication in that sense. With a magazine as small as Industrie, I had my fingers in all the pies, whereas at i-D there's a much bigger team with lots of individual roles, so there is more shared responsibility.
Your next issue is out in August, what's the inspiration behind the theme?
I'm not sure if I'm allowed to share that with you! What I will share is it's very much about the DNA of i-D. It's very much about being young, and kind of like a blueprint or snapshot of what it is to be young today.
How often do you commission freelance journalists? Do you accept stories or opinion from fashion bloggers etc.?
A lot! I think fashion bloggers and freelance fashion journalists add a completely different voice into the mix. I think we're always interested in diversifying what we're putting out. One of the easiest ways to do this is by getting a network of contributors who are different, have different understandings, different viewpoints and come from different places. Obviously, there's quality control so we always want the best writers, people who really know what they're talking about…But it's always good to have alternative points of view, otherwise you're stuck with magazines that all sound the same and are doing the same sort of content, and that's never good.
Which PR companies do you often work with? What's the most useful material they send?
We're really lucky that we work with such a wide range of people, the top PRs in fashion. So, the KCD, Karla Otto, PR Consulting, and Black Frames of the world. It can be anything! From more cultural PRs, art PRs, even events…like festivals and things like that, to beauty. Obviously stuff that's relevant and appropriate, I think what we're looking for the most is exclusives – that's what we really respond well to. Because we're quite daring and edgy in our point of view, it's always interesting to cover something in a different way. It's great when PRs come to magazines they have an affinity for and say "What could you do that would make this story completely different?" or "What could you do to make this story really come alive?"
At i-D we're always looking to do something exciting and fun, because then it makes it exciting for the brand, the PR and makes it exciting for the magazine, too.
Who's your favourite fashion label or design house?
I love Rai Kawakubo and Junya Watanabe of Comme des Garçons. I have a huge appreciation for Raf Simons, the way he thinks. I wear Alexander Wang nearly every day so, he's definitely in there too.
What looks are hot right now for the Summer season?
Oh gosh, I'm terrible at this kind of stuff! I'm not a stylist, but you know what I've noticed? It's this idea of streetwear and luxe streetwear. Obviously kids on the street wear trainers and things like that, but I've seen it really mixed into high fashion. With people wearing Stan Smith, or Nikes with real luxe designer pieces. And then it's tricking up in the sense that now labels like Dior have got highly embellished, super expensive trainers that they're doing… And I think last season Chanel did some luxe branded trainers as well. You can even see it in shapes, cuts and designs. AS1 Bombers and things like that. I mean, Raf [Simons] has been doing it for a long time… It's just things that have been picked up from the street, repurposed and given a high fashion gloss.
Lynette can be found tweeting @lynettesaid.