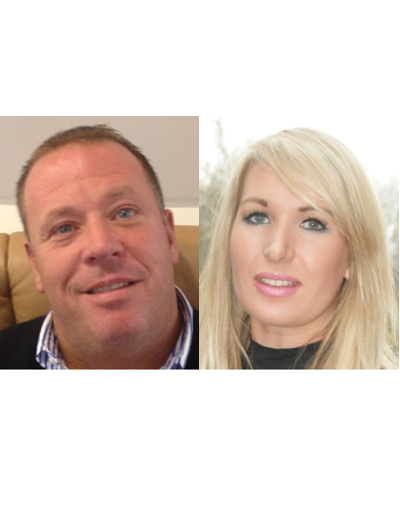 Welcome to the beautiful world of nails! We took a trip to beauty heaven to meet Scratch magazine's publishing owner Scott Derbyshire and deputy editor Helena Biggs. DWPub scratched the surface of this huge talon industry and learned how the title celebrated its 10th anniversary in style.
Tell us about your publication; who are your readers?
Scratch magazine is the leading UK and European authority for nail professionals. Our readership are trade professionals, consisting of over 20,000 nail technicians in the UK alone and extending further. We have huge interest online, as we've just moved the magazine online as well. We are read by numerous amounts (15,500) of beauty salons and spas who are all interested in what's going on in the nail industry, what they need to look out for, innovations and new products; keeping their fingers on the pulse.
What makes you different from the other outlets in your sector?
When we initially launched Scratch magazine, we wanted to step aside from being just a trade publication. We've set a standard where we've probably been the first 'pro-sumer' magazine launched into the industry. When we launched the magazine we never had anything on the front cover other than its name; it is purely designed and dedicated for a target audience to recognise the latest fashions, the hottest trends, everything that is available in the world of nails. The magazine encompasses more than just nails; it looks at fashions and targeting an audience of young, enthusiastic, entrepreneurial people taking the nail industry to where it is today.
Do you use freelancers?
At present we have one freelancer. At the moment we are looking into hiring some more freelancers. We've just taken on someone to write a few freelance articles who is actually a nail tech herself as well as a journalist. It's such a niche field; it's nice if someone really has a passion for it and knows what they are talking about. Passion is the most important thing.
What types of PR agencies do you work with?
With regards to PR agencies, it depends who the client is. We get a lot of niche PR agencies who want to approach us to feature their product line or their story. If they are representing boutique bars and salons we love to hear their stories, but it's mainly from large consultancy agencies and PRs who have taken on huge nail accounts. I think for our biggest clients and advertisers they have grown exponentially in the last couple of years, so they've had to have really big corporate PR companies who have taken them by the helm, so we deal with PR agencies across the board.
What will Scratch magazine be writing about this year?
Scratch magazine writes about whatever hits it in the face at the time. We keep abreast of all the latest news and the products. In the consumer market we've seen so many more innovations and a much greater interest in nails. We are trying to get hold of the professional and say you really need to get hold of your consumers now, you need to get hold of your client, and you need to show them the standards of nails that can be created by you. It's all very well that you can buy nail stickers and polishes from your high street store, but there is nothing like going to your professional nail tech. We try and make the professionals up their game, increase what they are doing and raise the bar when it comes to competing with this side of the industry.
How did Scratch magazine mark its ten year anniversary?
We held a huge cover competition. Our covers are so sought after we have about a year's waiting list just to get on the front of Scratch magazine – it's so rare to have a cover that's crystal clear without any headers over it. We held the cover competition and we had about 300 entries from almost 20 countries from all over the world, which shows how globally-renowned Scratch magazine is. We pinned it down to two covers and every May (which is our birthday month) we have this double cover so two people got the chance to have their cover shown on the May issue, which is fantastic. We tied this in with our annual awards celebration. We also hold the Scratch Stars Awards, which has just celebrated its second year, and we hold this the same month as our birthday, so it's a double celebration.
Describe a typical day at work…
A typical day varies. It depends on what stories come up – we try and get to as many press launches and previews as possible, so we can still keep our fingers on the pulse of what's going on. Editorially, there are three members of the team; there is Alex (Fox) who is our editor, she's based in Dohar. We communicate via Skype each day and she directs which features we will be working on. I (Helena Biggs) oversee things here in the UK in Westerham, Kent and we have a fantastic writer Kayleigh (Baker) who writes most of the features in the magazine and a freelancer who contributes on a monthly basis.
The Scratch team are tweeting @scratchmagazine.