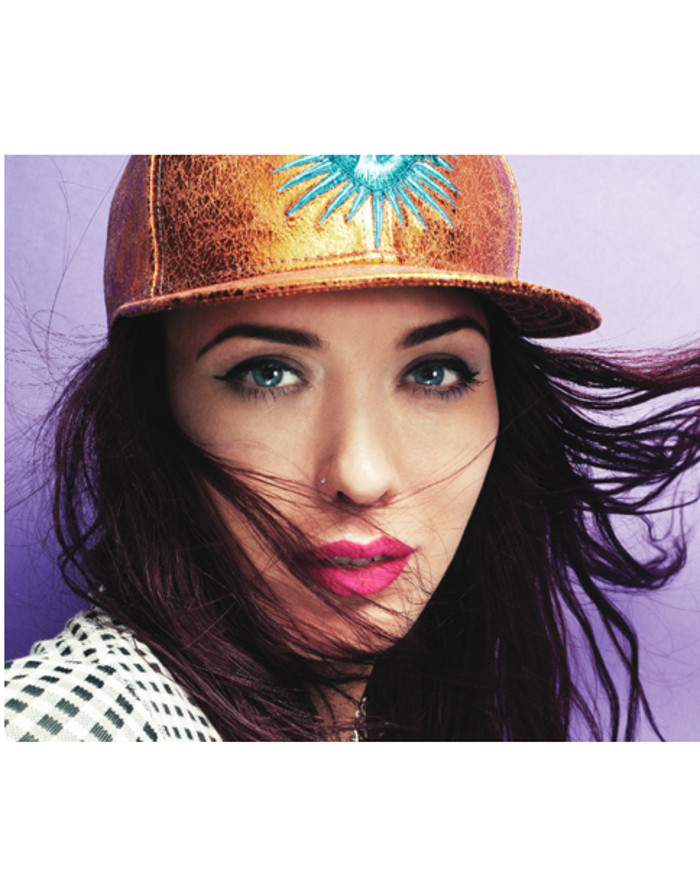 Before finding herself in this role, Paris started out blogging for a transgender charity before applying for an internship at Pink Paper, a much-missed gay, lesbian, bisexual and transgender news site. "I then struck up a relationship with DIVA magazine and got a lot of help from Jane Czyzselska – the first editor to pay me for my writing and also the first person to offer me a column. I owe her a lot. And after that it's just been freelancing here and freelancing there, really. I'll pitch anywhere I think will pay me. It's a bit like gambling, being freelance, isn't it? You send off your pitches and half the time nothing comes back." But nowadays, it's the other way round, with editors coming to her for ideas – "'Experience has made me rich and now they're after me'. Ha."
Congratulations on your new role, Paris! What made you decide this role at Attitude would be right for you?
Thanks! You know, I used to read the gay press as a teenager – back then I identified as a gay boy. I've since transitioned to female and I'm probably more of a Cosmo/Grazia/Dazed reader these days, but I'm fascinated by gay culture and still feel very much a part of it. I had a lot of troubles as a teen and found myself in prison, where I'd read Gay Times and dream of one day writing for them and being a journalist in London. It was hugely meaningful for me to serve as acting assistant editor of Gay Times last year and I'll always love the magazine, but sometimes you just need to do something fresh, you know? I'm scared of staying in the same place anywhere too long and I was always rather envious of the writers at Attitude. It's a beautiful magazine with its finger on the pulse and I'm in awe of the way they attract politicians and big-name stars, alike. Have you seen their awards ceremonies? Big names, big sponsors, and big publicity. Every magazine should be promoting itself like that.
How will the magazine celebrate its 20th anniversary this year? And how does it feel to be a part of it?
Well, I can't reveal everything, but we've just celebrated our 20th birthday edition, which featured my first column, and we had a fantastic event to mark the occasion the same day equal marriage was legalised. Holly Johnson performed 'The Power of Love' and, without wanting to sound mawkish, it really was something special, something I'll never forget.
You know, it really feels like the story of Attitude is the story of a really important part of history for gay and bisexual men in Britain. When Attitude launched 20 years ago, the age of consent wasn't equal, homophobia was rife in the media and everyday life, alike, and gay marriage wasn't really on the agenda. Things are by no means perfect today – we still need to do more to tackle bullying in schools, for example – but who would argue that public perceptions of gay and bisexual people haven't undergone a huge shift in our lifetime? That's all down to magazines like Attitude at the forefront of raising awareness, political activists and more and more ordinary, brave people choosing to live their lives openly. I remember, as a kid, reading about David Beckham doing the cover of a gay magazine and what that meant to me. That magazine was Attitude and it was the first time a British footballer had ever done anything like that. It helped me deal with those football-loving bullies at school. I remember telling them: Beckham doesn't mind gay people, what's your problem? Three years later, Tony Blair appeared in the mag and became the first serving prime minister to give an interview to a gay publication. The dark days really weren't that long ago, but things just started to change really, really fast.
What makes Attitude different from the other outlets in your sector (apart from the attitude, of course)?
At the end of the day, I'm not going to slag off the gay press because all gay culture, created by and for gay and bisexual people, is important. That said, you're not going to find a more beautifully-designed gay magazine in the world, let alone the UK. It feels like quality, the writing feels like quality and this is reflected in the calibre of both the columnists and the cover stars. I can't imagine anyone buying Attitude and feeling like they don't have a top class mag in their hands. It's the world's only serious fashion magazine for gay men, so that's not something to be sniffed at.
If you could interview anyone (living or dead) for the magazine, who would it be, and what would you ask them?
Probably Madonna. I first bought Attitude when she was on the cover during her 'Confessions on a Dancefloor' phase and they turned the whole mag Madonna-themed, it was fun. I'd love to tell you I'd ask her all these great questions but I'd probably just turn into a complete fan girl and cry – then beg her to tell me which beauty products she really uses. Wouldn't you just love to know what moisturiser she swears by?
How did it feel to be named the most influential LGBT person in the UK in 2013 by The Independent on Sunday's Pink List? Has this changed your style of writing or the way you present your views/your attitude in any way? Is it a big thing to 'live up to'?
I wouldn't say it changed my writing style but it certainly boosted my profile, and being on 'Question Time' a few weeks later didn't hurt, either. Yeah, the Pink List really marked a transition for me and I'm really grateful to everyone who nominated me and the judges for putting me at the top spot. I think they knew I'd use a boost like that and try to do good with it (it's also why I'm rooting for American actress and trans advocate Laverne Cox to place highly on this year's TIME 100 Reader Poll [Alas, Laverne was unfairly snubbed this year]). I'm really enjoying my career at the moment and experimenting with different voices for different publications and audiences. It's a totally different style if you're writing for the New Statesman compared to, say, VICE, where I'm having lots of fun writing whatever the hell I want. I've been used to occupying the moral high-ground up until now so it's interesting branching out and not always knowing that I am 'right' all the time. But that's what we need; we need people from diverse backgrounds being good, being bad, being shocking, being conservative and doing all the things everyone else does. That's what equality looks like.
With online issues now available to download as well as apps, will Attitude be looking at moving to digital only soon?
I really doubt that, but who knows? I think there's a fear in the industry that print media will die at some point but I don't think that's true. Newspaper circulations are dropping but magazines aren't going anywhere anytime soon. People like to touch and hold things, especially glossy fashion mags like Attitude.
How do you expect your first year at Attitude will be?
I'm going to do this in five words, like when you have a sleepover and ask your best friend to pick five words that describe you. Fun. Camp. Controversial. Serious. Glamorous. Funnily enough, that's how I'd describe my best friend, too.
How does the magazine like to hear from freelancers and PRs?
For contributions, we ask that freelance journalists send in a short brief on the article they are proposing to write (we pay journalists for contributions featured in the magazine).
And with PRs, we find all sorts of information useful – lifestyle, fitness, health, celebrity, politics, fashion… all would be gratefully received.
Are you an avid tweeter? How important is social media in journalism now?
I think it's important – if you've got a large following it helps direct traffic to your work, for example – but it's not everything. Not everyone is on Twitter and those that are active represent a particular kind of person, so it's good to bear that in mind. I don't know, I just don't see how you can be a journalist and not be on Twitter? Journalism is about communicating with people and if you can't do that up close and personal with all those people who read your work, if you don't want to talk to them, maybe you're in the wrong job.
I think it's good to be answerable to people, so long as their criticism isn't a personal attack. I think it helps you build up a discourse that's bigger than your individual articles, too – someone who's been following you on Twitter for a few years is going to engage with an article differently to someone who read something of yours two years ago, and then forgot about you entirely, for example. I suppose it's a cult of personality, but I've got quite a strong personality so that suits me just fine. I get ideas from Twitter too, of course. And you can never have too many of those.
Paris is tweeting @ParisLees.