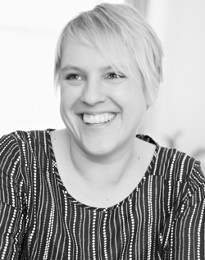 Selecting images of beautiful spaces, and shortlisting impressive interior homewares to inspire those creating their dream home – all while living on a journalist's salary. *Sigh*. Sounds like a tough job, but editor Ruth Bell does it every day as part of her good work on Kitchens Bedrooms & Bathrooms, which published its 250th issue this month.
We find out which houses Ruth would love the chance to rummage through (for the magazine, of course), which products she covets, and what her dream homestead looks like (hint: it's in Surbiton).
Congrats on reaching 250 issues, Ruth! The 250th edition features a look around Rory Bremner's kitchen – which other celebrity houses would you love a chance to investigate in the next 250 issues?
Thank you! Celebrity homes are actually a bit of a rarity for us – and even if they are featured, the celebrities usually don't want to be named, so it was a real bonus to be able to feature and interview Rory about his kitchen. But who would we like to feature…maybe Philippe Starck's house?I can imagine it's pretty extraordinary!
What do you think makes the magazine a continuing draw for readers?
I think it's the fact that we combine the perfect mix of practical information and advice for anyone starting on a home project with fantastic inspiration and ideas in the form of our beautiful real homes and original shopping shoots. It's a complete sourcebook for anyone redesigning their kitchen, bedroom or bathroom.
What do you like most about your job? Does it ever impact on the way your own home looks – have you ever got inspiration from things you've featured in the magazine?
Obviously the range of new and exciting products and trends we get to see and write about. It gives you a great insight into how you would furnish your home if you had the money – but, sadly, journalism still isn't that well paid!
Ain't that the truth. If you had any budget, and could buy any item for your home, what would it be?
I would love an original Ercol table, and chairs. If I ever have room for a proper dining room table, that is what I would like.
Do you find that front covers are still really important for drawing readers in? Have certain front covers done better for you than others? Which kind of things do readers like to see?
I think the cover is really important – it's the thing that sets you apart on the newsstand from all the rest. I'll admit that we haven't always got it right in the past, but generally covers that have an engaging or attention-grabbing image work best. So perhaps including a person so it's inviting or a really stunning interior that draws the eye.
Do you ever commission freelancers for the magazine, and if so, for which sections? And how should a writer get in touch, and with what kind of pitch?
We do commission both our expert features and real home case studies. If writers have relevant experience within the homes sector then just get in touch via email with some details on who you've written for. Or, we're always looking for great case studies so are glad to see any recce shots you might have.
What types of PR agencies do you work with – do you mainly work with the big brands, do you work with smaller companies that do more bespoke pieces?
We work with any PR agency that has a client or products that fit with the magazine. We're interested in anyone who can provide us with the images, information and comment we need – it doesn't matter what kind of agency it is.
We imagine you get a lot of press releases, what makes one stand out for you? How should a PR put one together to get the attention of the Kitchens Bedrooms & Bathrooms team? How important is imagery?
Imagery is vital. Just a couple of low res images initially are ideal so we can get an idea of what the new product or collection is about – and whether it is suitable for the magazine. Without an image, it's all too easy just to hit delete.
Pinterest is filled with people pinning pictures of rooms and furniture they would love to have – pictures of aspirational 'real life' spaces are featured on social media a lot. Do you utilise social media such as this to pinpoint trends?
Twitter (@kbbmagazine) is great for letting readers and the industry know what we get up to when we're out and about, plus we can tweet about brilliant new finds or ideas immediately, whereas with the magazine we have to wait a few months to talk about them.
People of a certain generation look at the house from 'Home Alone' as a dream home (sans Harry and Marv), and particularly covet the red and green-tiled kitchen and plush main bedroom (can you tell I am one of those people…) – are there any houses or rooms from movies, programmes, or books that you really like?
When I was young I always thought I'd live in one of those 1930s semi-detached houses like you see on 'The Good Life' but then I grew up and moved to London and realised that was never going to happen!
What room in your home do you spend the most time in, and why?
I live in a small flat so my kitchen and living room are almost the same space – hence this is where I spend most of the time as it's where the fridge, the cooker and the sofa are!
The Kitchens Bedrooms & Bathroom team are tweeting @kbbmagazine.