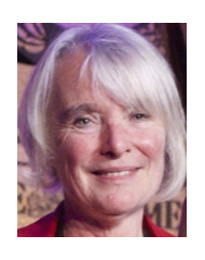 Property Industry Eye is a recently launched website dedicated to independent and accurate reporting on the residential property market in the UK and beyond. The editor Rosalind Renshaw has previously worked at Build It and The Negotiator magazines, and at The Times where she was a section editor.
In 2011, she won The Times/Sunday Times award for Outstanding Contribution to Estate Agency. Ros is regarded by many as 'The Voice of the Industry'.
Hi Ros, thanks for talking to us. Can you tell us about Property Industry Eye – who is the website aimed at and what topics do you cover?
It is aimed at estate agents and letting agents in the UK, and we cover anything of interest to the residential property industry.
With so many property news websites out there, how do you stand out from the crowd?
There is only a tiny handful of websites that cater for the residential property 'trade', as opposed to consumers, who are interested in homes. One of the very few topics we rarely cover is homes! Our site delivers news on a daily basis and all of it is genuinely independent – none of it is in any way advertising-related. If we feel it is interesting and relevant to our readers, we will use it and if it isn't, we won't.
How do you judge which issues are most important to your readers?
Will it affect the way our readers operate and run their businesses? For example, it might be new legislation, a rise in costs on the two big property portals (Rightmove and Zoopla) or a sudden growth in online estate agents. Many estate agents hold 8am daily meetings with their staff, so the news is always sent out well before then and, hopefully, there is something on the site that could get on to their agenda.
Property professionals are often portrayed quite negatively in the media, is this unfair in your opinion?
Yes. The huge majority of agents are ethical and incredibly hard-working. Most put in very long hours, and evening and weekend work is routine
Do you pay for contributions from freelance journalists?
Sadly, because we are only a few weeks old as a business, we have no budget. However, I also edit Residential Property Investor magazine (a hard copy bi-monthly for UK private landlords) and with that hat on, am always happy for approaches.
Name the three most important attributes that make a freelance journalist stand out for you and would make you use them again?
Knowledge of the subject, reliability when it comes to deadlines, and tidy copy.
What types of PR agencies do you work with and what type of material do you like to receive?
I work with all types of PR agencies and genuinely appreciate their work. Anything property-related is of interest.
Do you have a PR pet hate?
No. I regard PRs and journalists as doing very different jobs, but we are a team.
How did you get into property journalism?
Someone from advertising (aaagh!) poked their head around the door of the features department one day when I was at the Reading Evening Post back in the mid-seventies and asked if any of us would be interested in launching a brand new property supplement. Naturally, we were all extremely sniffy and said no … and then the advertising person said: "We are offering £30 a page". Irresistible! I have been totally hooked ever since.
Describe a typical day at work: What are your editorial duties/responsibilities at the outlet?
I aim to get the news posted and also out by email at 7am, so it is an early start. The aim is to deliver six or seven news stories per day, many of which cannot be read anywhere else (I hate the 'exclusive' tag and never use the term) so it is hard work with a lot of phone calls, research and emailing. I take very few breaks during the day, and tend to knock off round about 8pm, but often much later. Luckily, my husband Andrew Renshaw (a former editor of the Basingstoke Gazette) is very interested and supportive, and subs all my stories to ensure accuracy and house style.
What interests you most about your job?
The interaction with readers.
Which of the many property themed television shows would you be most likely to watch?
I confess to a soft spot for Phil and Kirstie.
How do you like to relax on those rare days off?
Gardening.
Rosalind can be found tweeting @rosalindrenshaw and the Property Industry Eye team @PropIndEye.