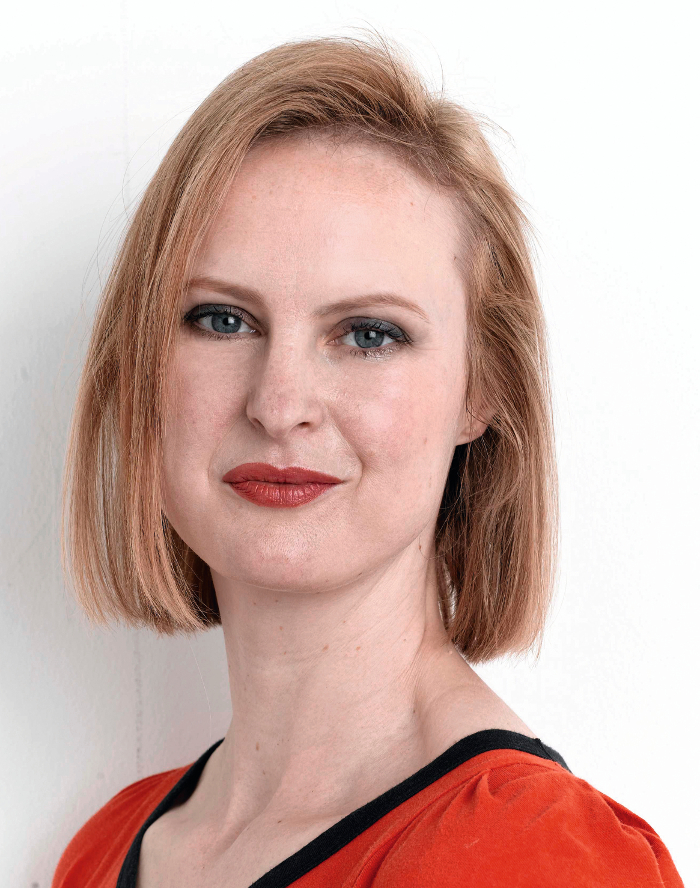 It's been all change at Northern and Shell's celebrity magazines over the Summer, with Kirsty Tyler moving from the editorship of new! to the top seat at OK!, Christian Guiltenane heading off from OK! to Now magazine, and Lebby Eyres moving up the ranks at new! (where we just started) to become its editor. Now Lebby's got comfortable in the captain's chair, and has the keys to all the top gossip on celebs such as Peter Andre, Victoria Beckham, Chantelle Houghton and even the current 'Celebrity Big Brother' housemates, we ask the tough questions:-
Are the new!, Star and OK! teams as friendly and familial as they seem? How loyal are today's readers to celebrities when the line-up of those in the limelight is changing constantly? And (very importantly) who shall we put money on to win CBB this year – mama needs a new pair of shoes!
What are you most enjoying about new! so far?
It's a tough market at the moment and I'm enjoying the challenge of working out what and who is going to sell well for us. It's nice to be able to make my creative vision for the magazine a reality and work out how we're going to develop and move forward in the next few months.
Can the focus of each issue change quickly if an important story breaks – do you keep to a forward features list at all?
Of course we have a forward features list for most areas of the magazine, such as fashion, beauty and true life, and we're always planning in advance which celebrities we'd like to do shoots with. As for the focus of the mag, there are certain celebrities that our readers have always been interested in – Victoria Beckham, Kerry Katona, Cheryl Cole. But suddenly you might get a whole new selection of celebrities, such as the current crop of housemates in 'Celebrity Big Brother'.
We took a bit of a risk recently putting Charlotte Crosby and Sophie Anderton on the cover. Our readers are really interested when we're tweeting about the show and viewing figures are good, so I just thought, let's go for it and see how it does. Charlotte, in particular, has a big following from 'Geordie Shore'; she's very down to earth, she's very natural, and outrageous. She's someone who could be very good for us.
And she's definitely going to win, so…
Let's hope so! And in a weird way, it's a little bit like when Chantelle [Houghton; winner of 'Celebrity Big Brother' series four in 2006] was in the house; she wasn't a celebrity at all, but all the other celebrities in the house warmed to her – it was a similar thing with Charlotte in this series – until Weegate, of course. But I still wish I'd put some money on her!
According to the latest ABC circulation figures, new! is still the best-selling celebrity weekly in the UK – how would you describe your readers and what they want from the magazine?
The average age range of our readers is late 20s, early 30s. We've always been the best value celebrity magazine on the market and our readers range from young mums to students and young professionals who don't have as much disposable income. So our demographic is much broader than people might imagine.
We've always tried to give our readers the best package of all the celebrity magazines – high-quality shoots, great fashion, and the most up-to-date celebrity news, as we go to press on a Sunday and are out on the newsstands two days later. Another reason why we've kept the title of the best-selling celebrity weekly for such a long time is that we've always had a very high calibre of columnists. We have Peter Andre, Chantelle Houghton and Josie Gibson at the moment and in the past have had celebs such as Jade Goody, Amy Childs, Natalie Cassidy. The recent issue with Pete revealing that girlfriend Emily is pregnant looks like it could be one of our best sellers of the year. When there's news about Peter, people know they will get the real story in new! And the same with Chantelle. Our readers identify with her. Some of the troubles that she's been through might be similar to the troubles that our readers are going through. Maybe they've split up with a partner and are raising a child on their own. Chantelle is coping, she's had her weight battles and her problems with her ex – I think readers like people who are quite down-to-earth and our choice of columnists have always reflected that.
True life stories are an integral part of the magazine and we've had some hard-hitting exclusives recently including this week a heartbreaking interview with the mother of the young man who died in last year's Bestival coach crash. That's a point of difference as not all of the celebrity magazines do real life stories. It's one thing that readers really respond to – there's always a lot of interest in them, and they generate a lot of feedback from readers.
The previous editor of new! was Kirsty Tyler, who recently moved over to OK!. Is there ever any cross-pollination between the two magazines, or is it all very separate, with focuses on different parts of the industry?
We do communicate with each other, even though new!, OK! and Star do represent three different areas of the market. OK! is very glamorous and glossy; Star is younger, edgier. So they all appeal to different groups of people. In the poly-bag, readers can get all three. But we do work together – buying exclusive picture sets, for instance – but we're still very conscious that we're rivals! There's a healthy dose of that – for example, we'll always keep our covers secret from each other. We're quite careful that way!
Is there anything coming up in the magazine in the next few months that you're particularly excited about?
We're going to have a very strong campaign running on our true life pages, which is a first for new!, which will be launching in the next few weeks. There will be many more developments, but they're all top secret at the moment!
Do you pay for contributions from freelancers? Which sections to you tend to commission them for?
Yes we do, although we'll try to chase down most stories and interviews ourselves. But occasionally there'll be a freelancer who'll have exclusive access to someone we can't get hold of ourselves, or an agency which is offering a very unique or unusual true life case study.
Contacts for pitches?
Charlotte North is the person to contact for true life stories. Features pitches should go to David Bell, our assistant editor and news stories to Lisa Jarvis. Or contributors can always go through our editorial assistant Olivia Adams in the first instance.
What kind of contributions from PRs are useful for the magazine?
The fashion and beauty teams work closely with PRs. For the news section, PRs should get in touch about events, products and charity campaigns that are being supported by celebrities.
We tend to get sent press releases every day about products that would never and could never feature in the magazine. And PRs can sometimes send out very long press releases. It would be good if more time was spent by PRs working out what's relevant to the magazine, otherwise it's time wasted on both sides. I'm one of those people who think it's very important to phone, if it's something that really is relevant to the magazine. Because we're all busy and don't want things to slip through the net, so I don't mind if people re-email me to give me a nudge, or a ring. It's the best way to build contacts – over the telephone. PRs should check that there's definitely a place for it in new!, and that it's definitely of interest to us, then they can email a few times and ring up to nag if no one has got back to them!
How did you originally get started in journalism?
Well, when I left Uni I actually started in book publishing. I worked on a sports and fitness guide reviewing gyms. The company I worked for eventually turned into Hotcourses.com. I was a TEFL teacher for a couple of years in Spain, and then when I came back I worked in television as a researcher on a programme for people with disabilities – that was great for true life experience, finding good contributors and interesting case studies. From there I moved into contract publishing, and that's when I started focusing on showbiz, TV and film. I worked on magazines for satellite TV companies, and was deputy editor and then editor for Home Choice magazine, which was an early video-on-demand service that has since been eclipsed by Sky+!
I then went freelance for a couple of years to get more experience on newsstand publications, writing true life stories and doing shift work – and that's how I ended up at new! I was shifting on the magazine off and on for about a year, then there was an opening. I was assistant editor, then deputy editor, and now editor.
What do you love most about working in the magazine industry, now that you're here?!
I love how fast-paced it is – I love working on a weekly. At the beginning of week you don't know what you're going to put on the cover. By the end of the week, you've got a great cover, some great pictures, and great stories. It keeps it exciting, it keeps it fresh.
In the last nine years that I've been on new! the market has changed a lot. With the rise of the internet, and the showbiz websites, it's even more important for us to find different angles on the big stories to bring to our readers, making sure that we've got the exclusive interviews with the people that everyone wants to read about.
With social media, is it easier to get access to celebrities to feature in the magazine, or do you mainly still go through PR teams and agents?
We still go through the traditional route. We do DM people to a certain extent, but most of the time people will still want us to go through their agents.
And we're always out at parties and festivals getting face-to-face chats with celebs then, as well.
Because the industry moves so quickly now, do you think celebrities go out of fashion quicker than they used to?
Not really! I think there might just be a wider selection now; the rise of reality TV has given us a wider choice of celebrities. There was a time when it was the same five or six celebrities – perhaps Posh, Jordan, Cheryl, Kerry. Maybe readers were getting a little bored of them. Then 'TOWIE' showed up, and 'Made in Chelsea' and we suddenly had a whole new crop of stars. But if a celebrity is going through crises, or weddings, babies, break-ups, readers will stay interested in them, even if they've been around for a while.
Lebby Eyres can be found tweeting @LebbyE.