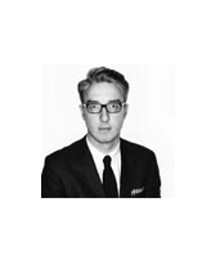 Sometimes GQ coverage results in a different and less generic interview experience for their chosen featured star… sometimes it results in exclaimations of "someone shoot me. Push me off a cliff. Stab me. I [sic]" from One Direction fans. The point being, you can never exactly tell what reader reaction will be. One man who knows that more than most is GQ's online features editor Oliver Franklin, who works alongside online editor Andy Morris to lasso/be lassoed by the big celebrities and oversee all editorial content for the website (apart from fashion, that comes courtesy of online fashion editor Nick Carvell).
Following Oliver's recent promotion at the website, we debate the apparent all-importance of click-throughs for digital publications versus providing genuine insight for your readers, and Oliver outlines the team's plans for the brand's continuing expansion and endurance online.
Hello Oliver! You were recently promoted to online features editor at GQ – congrats! – can you take us through your day-to-day responsibilities in the role…
As features editor, my primary responsibility is looking after our non-fashion content (for all things menswear you want our fashion editor Nick Carvell). That means anything and everything in the GQ world, from interviewing film stars and musicians to reviewing the latest restaurants, books, gadgets and more. Along with our editor Andy Morris, I also will be expanding our news and politics coverage and liaising with our array of brilliant columnists.
What are you enjoying most so far about the job?
I've been at GQ a couple of years now and the most enjoyable part is always the sheer variety of things to write about. For example, in the last fortnight I've reviewed Jay Z at the O2, been to New York and back for a tech event, covered half a dozen junkets at the London Film Festival and interviewed an England striker. It does require an awful lot of energy, but it's worth it. It's also great to work for a brand that I had been and remain a massive fan of – I'm still a reader at heart.
How do you keep a balance between intricately written and researched editorial reportage… and what some might refer to as 'link bait' for snaring quick click-throughs?
I don't really like the term "link bait" as it makes it sounds like we're somehow tricking people! We do try and strike a delicate balance between quick sharable stories (a new film trailer or that week's new album to listen to, for example), interviews, comment pieces and features. Generally speaking when a story comes along our approach is: first and foremost, is this a good story? Secondly, is this a GQ story? Is it good enough to run in the print edition? And finally, but by no means least, how are we adding value or insight for our readers?
I really enjoyed GQ's coverage of the reporters kept hostage-on-a-777-for-Rihanna's-Unapologetic-tour [Rihanna also happens to be the cover star of this month's 25th anniversary issue of the magazine]. Does the GQ team often find themselves at the mercy of international stars?
That's one for our intrepid editor Andy, who blogged from the tour… and I believe even made it onto the DVD! That was a very rare example of being offered extraordinary access from a star (or her label) – and it made for a great story. We're lucky to have a great relationship with the celebrities that feature on the site and their PR agencies; I probably do an interview per week minimum, not to mention the rest of our writers. I think the secret is that people tend to enjoy speaking to GQ because we try to have a different approach to everyone else – it's not the same generic questions they might get from a film or music publication.
And who have been the nicest people to work with/write about during your time at GQ so far?
Too many to name! Hugh Jackman was great and Michael Fassbender is always a gentleman. Ditto Daniel Radcliffe and Simon Pegg. Thankfully, I've yet to have a truly catastrophic interview experience… which means I'm probably due one at some point.
Let's hope this isn't that interview… How should freelance journalists pitch to the GQ website, who should they get in touch with for the different sections, and what kind of ideas are likely to result in a commission?
Primarily, freelancers should pitch to Andy Morris and myself for non-fashion stories and to Nick Carvell for all things fashion. As for story ideas, we're looking for the things outlined above: is this a GQ story? Where would it sit on the site? Also, is a freelancer adding value? Press trips and celebrity interviews we frequently have been offered ourselves (and also we don't publish freelance restaurant reviews, games reviews or travel pieces). Anything where a freelance writer can take advantage of being freelance – being there in person, offering a unique understanding – is a plus.
What makes a feature stand out and grab you – how do you know what your audience will respond to?
You can never really tell how your audience will respond to something (our recent One Direction covers were a case in point) so I try to go on our instincts. Personally, I always like to read stories that have a human angle, or are adding a level of insight. A news hook is sometimes helpful but not always necessary. Wit and a great turn of phrase are important, but can't replace good reporting. One of the best examples we had on the site recently was an exclusive interview with a York Mosque senior who offered the EDL biscuits when they came to protest – not what you might think of as a stereotypical "GQ" story, but a great story nonetheless.
@BritishGQ recently tweeted about getting an email regarding "T-shirts for dogs that make them less scared of fireworks" – of all the press releases and emails the team get from PRs on a daily basis, what percentage of them are used in any way in the magazine or on the website?
Maybe 5%. You'd be stunned at the number of emails we get every day that are in no way targeted to the magazine or website, from dog clothes to baby food. Given that I cover such a wide range of subjects, I receive more PR pitches a day than it's possible to read, let alone respond to – particularly since the promotion. When Andy went away for two weeks on his honeymoon recently, he returned to 4,908 unread emails. I get a good 200 or so every day, plus phone calls. So if I haven't responded to that press release, it's nothing personal! Also please treble-check before you pitch us with a story that it isn't covered on the site – we occasionally get PRs ringing us about stories they want to place that are already top of the homepage.
What information from PRs is actually useful to you? How should PRs get in touch?
Always on email, as none of the team have time to answer the phone. As for useful information, the biggest thing is just making sure that it's a GQ story (so probably not baby food or dog T-shirts). If it's something that we wouldn't cover – a restaurant updating its menu, for example, is more of a specialist food mag story – maybe pitch it as an idea for a trend piece, or a guest column from the chef instead (although Andy has a personal hatred of anything PR release-based on a survey). Other than that, it's really helpful when PRs have all the necessary assets for a story – images, embeddable video – included or linked to in the pitch.
Do you have time for face-to-face contact with PRs anymore, or is most contact digital now?
I think face-to-face contact is really important, not just because our relationships with PRs are vital but because it's good to get away from a screen once in a while! While we don't encourage desk visits (not least because you'll just likely be pestered by the many GQ office dogs) I'd always encourage breakfast/lunch/coffee to catch up and let us know what you're working on.
Where have you worked previously, and how did you end up in your current position?
I started out freelancing for the likes of Wired, GQ and Men's Health and spent a little while online at the London Evening Standard before landing a spot on GQ's six-month paid internship scheme (which I cannot recommend enough). After that they offered me a staff job and I've been here ever since.
How much time would you say you spend on social media in relation to work – is it replacing other forms of contact?
We share responsibility for social media, which is probably a good thing as Tweetdeck is insatiable. I don't think it's replacing other forms of contact, but it is a vital traffic driver for us as well as a great way to converse with readers.
You review films for GQ – what have been your favourite films of 2013, and the worst?
Now there's a question! It's not been a vintage year so far, to be honest. I was a massive fan of 'Gravity', which is out soon – so much so, in fact, that I'm going to see it again in IMAX. '12 Years A Slave', which I saw at the London Film Festival, is spectacular. And on two alternate ends of the spectrum, I really enjoyed 'The Iceman' and Simon Pegg and Nick Frost's 'The World's End'. As for the worst, I'm a firm believer in the maxim: "If you've got nothing nice to say, don't say anything at all."
Are you a Walter White acolyte? Is it possible to work in consumer media and not be?
My 'Breaking Bad' obsession dominated the summer, as regular readers know full well (case in point: for my most recent birthday my girlfriend baked me a Heisenberg cake, complete with blue meth candy). One of my highlights of this summer was going on Radio 4 to talk about the finale. The only question now is what will fill the void, at least until the next season of 'Game Of Thrones'. If you've got any recommendations, tweet me!
And you can do just that by tweeting Oliver @olifranklin.